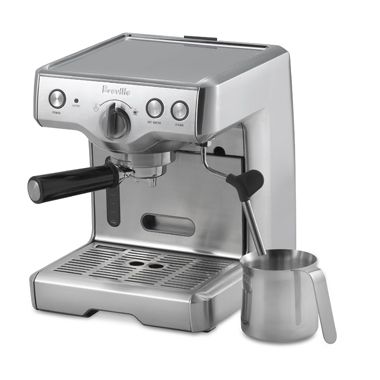 Breville® Die-Cast Model 800ESXL Automatic Espresso Machine
And it easily fits both large and small mugs
Other great features include a 2.2-liter removable water tank, pre-brew function, auto-purge function, drip tray with full indicator, extra large warming plate, hot water function, commercial swivel steam wand with stainless steel frothing attachment, custom designed tamping spoon, cleaning tool, stainless steel frothing jug and more
Measures 14.75"L x 13"W x 16.11"H
1100 watts
UL listed
1-year limited warranty
Model # 800ESXL
SKU # 13935068
Breville® Die-Cast Model 800ESXL Automatic Espresso Machine
15
15
Excellent.
Please understand I credit myself with being one of the first people to enjoy espresso in the area. This machine is terrific it makes a perfect cup of coffee. Even my relatives from Italy declared it makes some of the best coffee in the U.S. that's not saying much but they drank it and even sent me beans to use when they left. Honestly you need to pay attention to the particulars, but other than that it's great.
July 29, 2014
piece of junk
I paid $299 for this piece of junk and it stopped working within one month of purchase. Breville wants you to send it back to them for repair! What am I supposed to do for a coffee maker while they figure it out? Fortunately Bed Bath & Beyond let me return it at the store.
June 1, 2014
Downgrading last review
I returned my machine because it had a minor leak in the steam wand but I also had problems with producing a quality shot of espresso so I decided to try the 840 infuser model. I was not satisfied with the quality of the espresso shots (and the soupy wet puck) with the dual wall filter-although the single wall filters were available for an extra charge it didn't make sense when the 840 model seem to have better features for not much more money. I should note the diffuser model produces a much better quality shot though there are some minor differences in design- some good some bad. The 800 model has a larger drip tray and water tank I think and the included milk pitcher was a bit bigger-it also has a stainless steel warming tray on top unlike the plastic on the 840. Aside from those differences the 840 model is a much better machine for many reasons. If you are not that fussy about your espresso and don't mind using preground coffee then the 800 model might be just fine for you. I say this because the instructions for the 840 model recommends that you use preground coffee for the dual wall filter. But if you prefer to grind your own coffee and want quality extraction, the 840 model is a good entry level product with some advanced features like preprogrammed dosing ,puck drying ,pressure gauge , separate steam and water function, etc.
January 17, 2014
Too expensive, poor quality and customer service.
Owned this machine < 2 years & it died. Purchased at William Sonoma who wanted nothing to do with it. Called the manufacturer for repair & the only repair person in MN must be a vampire, works only 10 pm - 2 am & does not answer the phone. Figured out what broke, called another state's repair center , apparently these parts "always break" and have to be installed by a "trained" service person. After much persuasion had the part ordered $75 + s&h. Would NOT recommend spending this much money with the poor quality and lack of customer service.
January 9, 2014
Unreliable maker
It broke down only after two years of use - at that time I paid closer to $400 for this piece of flimsy engineering. I called the service at Breville, and they suggested to mail it for repairs (for a whooping fee). When they quoted the repairs, it would be cheaper to buy a new machine, which they enthusiastically offered to me. Fat chance! Just think for yourself, if it were a car, and it broke after two years with repair costing as much as a new car, would you buy that make again? And an espresso machine is a simpler gadget than a car, so why can't they figure out how to make a coffee machine that works for at least 10 years?
December 26, 2013
HATE IT!!!
Bought this machine. It worked for two weeks, then stopped brewing. I've followed the cleaning instructions, tested and re-tested, wasted half a pound of coffee. This machine is a disaster. And I get to replace it two days before Christmas. Breville equipment will not be considered.
December 22, 2013
Great little machine
We use this machine to make espresso and cappuccino,, Always used "ese" pods with the special filter marked "pod". No problem with the clogged filter like I read in many reviews.I find the milk frother annoying and use only the wand by itself I still get a great froth on the milk. I t takes a while to get the milk really hot , i put my cup filled with 1/2 cup of water in the microwave for a minute before making the cappuccino..Yes, I will recommend it but use "ese"pods. Great price when you use the 20% off coupon!
November 17, 2013
Well made machine
I am replacing a Krups of similar design that Krapped out in 6 months. This has fewer features (no setting for single or double, but those don't work very well anyway) but seems sturdier. The coffee is amazing! Beautiful crema!!!!! The single cup insert does pop out when emptying the puck however. Yes, it's a bit loud but in this price range, I am hoping the quality will endure. Someone was browsing next to me at the store and said his dad had this machine for 10 years. Anything in the $200 range doesn't seem to last 6 months these days, so here's hoping.
October 17, 2013
Related Searches:
Similar Products:
Also check out:
$12.49

Free Standard Shipping

(1 Review)

$149.99 Each

$30 Manufacturer's Rebate Available

(18 Reviews)

$19.99

$9.99

Clearance!

(9 Reviews)
$11.99

Free Standard Shipping

(5 Reviews)

$49.99

$50 Bonus Gift card with $300 Calphalon Purchase

Exclusively Ours

(44 Reviews)