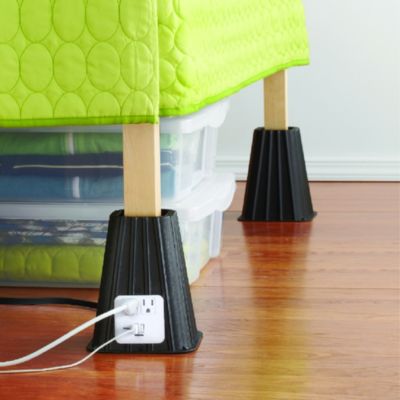 7-Inch Power Bed Riser (Set of 4)
These Power Bed Risers also help raise beds 7" off the floor to increase under-the-bed storage space
One bed riser features twin 110-volt, 15-amp grounded power outlets, as well as twin USB 5-volt DC outlets with charging light for convenient charging of handheld devices
6' L cord plugs into the nearest outlet
Measure 6.4" W x 7.8" H each
SKU # 40151694
7-Inch Power Bed Riser (Set of 4)
5
6
Well worth the price!
Sturdy, very convenient. A little pricey but worth it. I would recommend a five piece set for queen and a 6 piece set for king. I highly recommend this item.
August 22, 2014
Not stable
I really hoped these would work for raising the level of the bed frame, and the power outlet with the charging station is a great idea. However, the bed lifts were simply not stable enough for me to feel comfortable about someone sleeping in the bed. A slight shift and the bed frame tumbled to the floor. These will be returned today.
June 29, 2014
Wish We Hadn't Bought!
We've had these just over two months and two of them broke today. We're going to attempt to return them but I can't find any warranty paperwork, so I'll just have to hope BB&B takes them back. Don't waste your money. Wish we'd bought cinder blocks and a power strip instead! Also the cord for the riser is pretty short, which makes the outlets pretty useless for us.
March 23, 2014
I Love it
I love the new idea to have extra outlets and usb ports, and I wish that you would create a up to 5 inch riser with the same technology in the near future.
August 30, 2013
fab idea but check university housing
Fabulous idea BECAUSE OF THE OUTLETS. However, I returned mine bec the university did not allow them. The beds are able to be lofted and these would make them too tall. If this is the case, a power strip is the option; otherwise these would be great!!!
September 20, 2012
Related Searches:
Similar Products: