Polder® Diet Utility Scale in White
Weight measurements indicated in .35 oz./10 g. increments.
Weight capacity: 18 ounces.
Durable plastic construction.
SKU # 10171725
Polder® Diet Utility Scale in White
5
6
Great for the price; accuracy is what I was after
I weighed a few marked packages and the scale showed the expected weight. I wish it had more markings on the grid, but I'm getting used to interpolating. You can't beat this for the price.
May 19, 2014
Surprised great buy!
As any consumer would be, I was doubtful about the quality and functionality of a scale costing only $5.99. Figured I could easily return the scale if it turned out to be worthless. Surprisingly, it has worked just fine. I even calibrated how good its measurement was by weighing out 8 ounces of dry oatmeal, then pouring the oatmeal into a 1-cup measuring cup. To my surprise, the result was right on the money.
January 26, 2014
Overall rating 5 star
Podler Diet Utility Scale is very much usefull now a day in health, diet andday to day use.
September 25, 2013
Polder Scale in White
Love it! The manager Peter, was 1000% correct and I love using it. Haven't lost much weight but it keeps me honest about portion sizes. Thanks Peter (Sheridan Store, Hollywood, Florida) for all your help.
September 18, 2013
Food scale on the cheap (but not bad)
I needed a cheap food scale that got the job done with little fuss. This little guy does what it's supposed to. It's got a little calibrator dial on the back to allow for the container that you put your food in - which you can adjust if needed. The container itself has a little spout in one of the corners for liquids and is a pretty decent size. The entire scale is made of sort of flimsy feeling plastic but as long as you're not banging this thing around it should be just fine. Good price and gets the job done.
October 16, 2012
Related Searches:
Similar Products: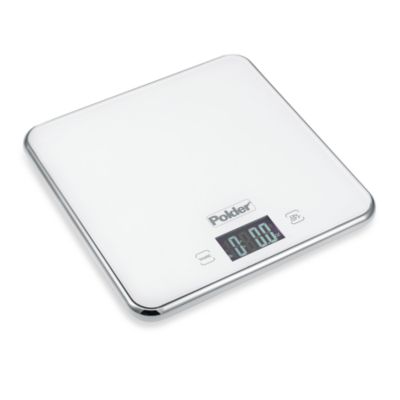 Polder® Glass Top 11 lbs. Digital Food Scale in Colors
Price:
$29.99
Brand:
Polder
Colors:
black, white
Categories:
Kitchen > Bakeware & Baking Tools > Measuring Tools
Accurately weigh food portions or ingredients on this 11-lb. capacity digital food scale with large LCD backlit display and easy-touch screen controls.
Also check out:
$59.99 - $79.99

Excluded from Pack and Hold

Beyond Value

(190 Reviews)
$6.99 - $7.99
(6 Reviews)

$5.99

Beyond Value

(17 Reviews)