Insta Bulb™ Battery Operated Light Bulb in 2-Pack
As Seen On TV
The bulbs are cool to the touch and shatterproof
Insta Bulb™ is great in attics, garages, basements, closets, and under stairs or cabinets
Each Insta Bulb™ requires four AA batteries (not included)
Bulb slides out of base to become a handy lantern
10 year warranty
Imported
SKU # 40496405
Insta Bulb™ Battery Operated Light Bulb in 2-Pack
7
7
Insta Bulb™ Battery Operated Light Bulb in 2-Pack
i AM IMPRESSED......WORKS GREAT IN CLOSETS.....BETTER THEN THOSE LED LIGHTS.........LOVE IT.....AND YOU GET TWO!!!! VERY LIGHT WEIGHT AND CHEAP SO I THOUGHT THIS IS NOT GOING TO BE GOOD BUT WHAT A PLEASANT SURPRISE!!
August 11, 2014
Works pretty good
It's a neat product but not very bright. I bought LED flashlight bulbs for it and it is much brighter. Although the bulbs cost 10.00 ea. it makes it a very useful light and the battery life will last much longer.
July 23, 2014
just like the commercial
this product works geat. i put it in a small porch in the front part of my house, and it completly lit up the entire area!!!! i also put one in a closet , and gave out so much light. This is a wonderful product!
March 10, 2014
Not happy totally fooled
I purchased this product because most apartments in LA don't have lights in the bedroom. So when I saw this I was excited to but both as soon as I got home. I figured two would light up a small bedroom. Mistaken, it is more like candlelight. I put it in my closet instead but was not impressed either. I will just keep them for blackouts or something. Not a total waste but not what I purchased it for.
September 27, 2013
Light up my life
This product works great. I have one in my closet and one in my sons. We often have power outs in our area as well so it helps during those times
July 31, 2013
Easy, Helpful!
Very easy to install and easy to use. Now I can clean out the space under my stairs, because I can see what's inside!
July 21, 2013
Come On, for $2.50 each!?!?
Recently installed into a few closets. It's so nice to have some light in dark, enclosed places. It really helps to be able to choose clothes that work together. On the CON side, (1) of the 4 I installed - the Pull-On-String, no longer Pulls-On. But, for $2.50; to have not only a light for a dark enclosed space, but you also can slide the bulb part out & use it in the closet or if the Power goes out, it works just as well should you need to light your way around a dark house. Just, as we all know, the Power Never Goes Out !!! Each light takes 4 AA Batteries, so make sure that you get a 16 AA pack of Batteries.
July 11, 2013
Related Searches:
Similar Products: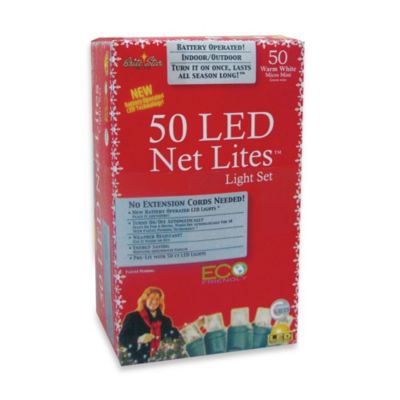 Brite Star 50-Count Battery Operated Warm White LED Micro Mini Net Lights Set
Price:
$51.99
Brand:
Brite Star
Categories:
Holiday & Gifts > Christmas > Christmas Lights
Perfect for hanging over bushes or drapes, this battery operated micro mini net lights set features 50 warm white LEDs strung on a green wire with a 4" lead cord and 6" spacing between bulbs. Comes with a timer for convenient automatic operation.
Also check out:
$14.99 Each

Beyond Value

(7 Reviews)

$5.99

Beyond Value

(18 Reviews)

$29.99

Beyond Value

(6 Reviews)
$9.99 Each

Exclusively Ours

(4 Reviews)

Twin $19.99 - Cal King $34.99

Exclusively Ours

(78 Reviews)

$29.99 Each

Beyond Value

Exclusively Ours

(23 Reviews)