Keurig® K10 MINI Plus Brewing System in White
Make a perfect cup of gourmet coffee, tea, hot cocoa, or iced beverages in less than 2 minutes with the Keurig K10 MINI Plus Brewing System
Uses K-Cup® packs
Compact personal coffee maker design brews one cup at a time
Great for small spaces, dorms, offices, or vacation homes
Simple to operate: just add fresh water into the single-use reservoir, choose your favorite K-Cup, push brew button, and enjoy
Three cup size brewing options (6 oz., 8 oz. and 10 oz.)
Includes 6-count K-Cup Variety Sampler Pack
Removable drip tray accommodates short travel mugs and cups
Integrated cord storage
Easy-fill, single-use water reservoir
Reservoir capacity: 10 oz.
Energy Savings Mode automatically turns unit off after 90 seconds
1425 watts
Plastic housing
Wipe clean exterior
Dimensions: 10.8" H x 6.9" W x 10.7" D
Weighs 8.75 lb. empty
UL listed
1-year manufacturer's warranty
Imported
Model K10
SKU # 40415581
Keurig® K10 MINI Plus Brewing SystemNo Spoken Words
Keurig® K10 MINI Plus Brewing System
317
357
Keurig® K10 MINI Plus Brewing System
The product is excellent and speaks for itself. I would like to commend BB&B for the wonderful service that they provide their customers. The staff at the Pearlridge branch is so helpful and they make it so pleasurable to work with them. I have dealt with them with orders in store and on line and have no complaints. I am also surprise in how quickly I receive my orders when I do on line shopping.
November 11, 2014
Do not recommend
It is very difficult to control the amount of water needed for each cup size.
November 10, 2014
Pretty but not for me
I loved the fact that I could get this in pretty colors. But, when I got it home and tried to use it I didn't like the place you fill with water. There is a part that just floats around and it was confusing and messy. Returned it and got the next model up and I LOVE IT! Worth the extra $20!!!
November 10, 2014
Love this smaller version of Keurig!
We have a larger version for home use. Purchased the smaller version for work and I absolutely love it! Removed the tray (so it can fill a taller cup) and I use it several times each day. Hot, hot, hot beverage of my choosing each day is wonderful. I am purchasing at least 2 more as gifts for the holidays. Perfect size for personal use and the array of colors is so great.
November 10, 2014
Great for quick one cup of coffee
Great for one small cup of hot coffee in the morning or any time . Brews fast and easy to use . Downfall is only makes a small cup of drink and cups are very expensive we bought refillable cup and can of coffee but would go bankrupt if only drank keurig cups .
November 8, 2014
Great sized Keurig
This was my first Keurig I ever bought. I didn't want one too big as I only use this every so often. Great size, fits right in a nice corner of my rack where I keep it. Very quick to brew and easy to clean if needed. Operates just as well as the bigger Keurig but this mini size is just perfect. Offers just one size oz. for drinks which is great for me. Black color is very sleek. Would definitely purchase if you wanted a mini version of the expensive brewing system!
November 7, 2014
This product is difficult.
This is difficult to use and you must use a small cup because none other will fit. It takes longer than I like to go through the process of making a cup.
November 5, 2014
Great Size and Easy Operation
I love the color (turquoise) and the facility of using this coffee/tea/hot chocolate maker. So far, it has performed perfectly. I also like the ability to use my own coffee beans, if I so desire, with the reusable K-cup filter.
November 4, 2014
Related Searches:
Similar Products: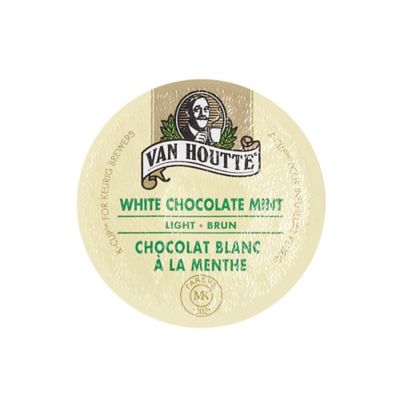 Keurig® K-Cup® Pack 18-Count Van Houtte® White Chocolate Mint Coffee
42 Reviews
Free Standard Shipping
Price:
$11.99
Brand:
Van Houtte
Categories:
Kitchen > Small Appliances > Coffee, Tea & Espresso
Enjoy a fresh cup of coffee or tea anytime with these patented K-Cup® Single Serves, for use with the Keurig® Gourmet Single Cup Home Brewing System.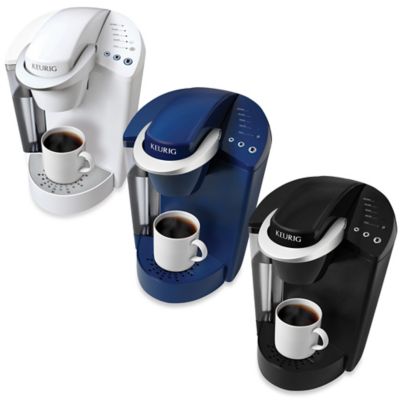 Keurig® K45 Elite Brewing System in White
Price:
$119.99
Brand:
Keurig
Colors:
black, blue, red, white
The Elite single serve home brewing system perfectly brews a cup of coffee, tea, hot cocoa or iced beverage in under a minute with a touch of a button. Features 3 cup size settings (6, 8 and 10 oz.), and a removable drip tray to accommodate travel mugs.