"Real Simple® Tall Cabinet with Two Drawers" Is Not Available for Sale Online.
We have provided the content below as informational. Please view additional items Customers also viewed.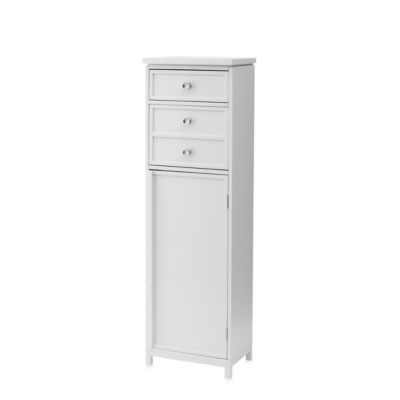 Real Simple® Tall Cabinet with Two Drawers
Related Searches:
Similar Products:
Customers Also Viewed
$4.99 - $8.99
(7 Reviews)

$99.99

$79.99

Clearance!

Exclusively Ours

(1 Review)

$149.99

$99.99

Clearance!

Exclusively Ours

(1 Review)

$99.99

Exclusively Ours

(5 Reviews)

$79.99

Exclusively Ours

(10 Reviews)

$24.99

Exclusively Ours

(102 Reviews)

$24.99

Exclusively Ours

(27 Reviews)

$5.99

Beyond Value

(16 Reviews)
Frequently Bought With
Imported
Measures 40" H x 12" W x 8.43" L
SKU # 40413976
Real Simple® Tall Cabinet with Two Drawers
8
8
Good value for the money
I needed a small cabinet for my commode room and this size was perfect. It looks good. There was a lot of assembly involved and one step was missing in the instructions, which is why I am deducting two stars for that. I did like the way all the parts had a number sticker on them and all the hardware (screws, etc.) were shrink-wrapped to a piece of cardboard & numbered.
August 4, 2014
Kind of a cheap product not worth $60 at all...it does its purpose for what I needed it for, a basement bathroom for storage of small things, but I would never place it in the upstairs for everyone to see...its a chinsey product
September 16, 2013
Item as described
The item was as described. It met my needs as I used it for my bath and body products.My neighbor put it together and it took some time to assemble it.
July 31, 2013
Disappointing
This cabinet is disappointing in terms of its workmanship. It looks cheap, like it came from the Christmas Tree Shops or something. Actually, I have shelving from the Christmas Shops that is better constructed than this! It has also been in my home for several weeks and still has an unpleasant odor.
June 12, 2013
Cute but....
In the end I'm satisfied with it. But for whatever reason I had a very difficult time putting it together. Up until the end it was fine but for whatever reason the stupid drawer wouldn't line up/fit on the track! It was so infuriating. I was moments away from returning it... meanwhile it was the last step... that's how angry I was. Plus, not all of the holes for the screws were made correctly. If I had to do it again I would either ask someone else to put it together or just find a better quality one.
May 31, 2013
Nice little cabinet
Fairly easy to assemble. Perfect for a small space. Quite nice, not too cheap looking, solid. Happy:)
March 21, 2013
Great little cabinet.
I put one part on wrong and had to redo it, but not hard to put together. I always use some wood glue when using the wooden dowels. The top and bottom drawers both have stoppers to put on them so that they don't come all the way out. I just love this little cabinet. It's perfect in my small bathroom.
January 14, 2013
Poor construction and unsturdy
Good size and shape and looks attractive, but the bottom drawer pulls out entirely if you open it all the way and the long cabinet door doesn't seem to shut well. Had my super not already put it together I would have returned it. Very disappointing.
December 27, 2012
Last Viewed Items
$14.99

Excluded from Pack and Hold