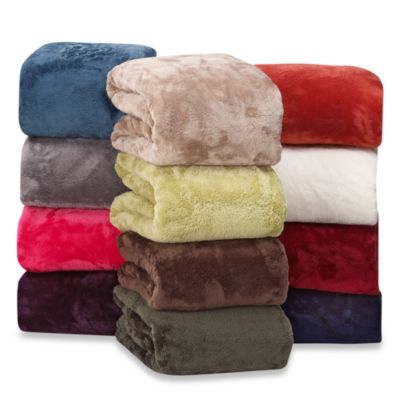 Berkshire Blanket® Serasoft® Supreme Throws
100% polyester.
Measures 60" W x 70" L.
Machine wash.
Imported.
Berkshire Blanket® Serasoft® Supreme Throws
24
25
So soft!
I ordered this blanket for my daughter to take to college and we are so impressed with the quality and softness of this blanket. The deep color of purple is beautiful. There was another Berkshire blanket in the store and the feel of that one is no where near this one. I highly recommend this throw.
August 11, 2014
Super soft and comfy!
I love these blankets!! I bought 2 and couldn't be happier! They are light weight but warm, super soft and cuddly, and just the right size for lounging on the couch! Even the cat loves them, as soon as she steps onto it she starts making biscuits!
June 3, 2014
Pills and sheds horribly
This throw is incredibly soft and warm. However, after the first washing it was leaving fuzz on everything. After the second washing it was nearly completely pilled and shedding everywhere. Thankfully, Bed Bath and Beyond let me return this, and I am trying a different throw. I hope it is better!
May 17, 2014
Soft & Long
I got one for my daughter and myself. Very soft and nice, I liek that it is longer than most, I wish it was a little thicker and heavier however. Comes in great color choices, I got the Aubergine. Havn't washed it yet andI hope it doesn't shed much, some do.
March 18, 2014
So Soft!!!
I received this blanket for Christmas and I just love it!! It is so soft and is large enough to cover two people. If your on the fence about buying this blanket you won't be disappointed.
February 17, 2014
Love These!
I ordered two blankets from another manufacturer and returned them because they shed and looked and felt cheap. I then found these and was so pleased that I will order these again if I need to purchase another gift. The two colors I ordered (pink and navy blue) were exactly what I expected; the blankets look and feel rich!
January 28, 2014
A year later these look like an old stuffed animal
You know, the matted, gross looking ones? I bought these mainly because I read that they "washed well" in the reviews. I guess it was ok after the first wash, but by the second I could see wear and loss of softness. I washed these pretty frequently--every couple of weeks--and a year later I have to get rid of them because they look terrible. These weren't cheap, and I'm not happy. (I have to wash them a lot because I have a toddler!)
December 26, 2013
Most comfortable blanket ever!
This blanket is amazingly soft and comfortable. I avoided washing it at first because I was worried that the softness would fade. Finally I had to cave, and was pleasantly surprised when I washed it and air-dried it and the softness stayed! My step mom has trouble sleeping. I know what I'm getting her for Christmas!
December 15, 2013
Related Searches:
Similar Products: