Starbucks® Verismo™ 580 Brewer in Piano Black
Starbucks Verismo 580 Brewer boasts a sleek design that allows you to easily make your favorite Starbucks coffee and café-style beverages in the comfort of your home
Exclusively uses specially packaged Verismo™ pods
Simple 3-button (Brewed Coffee, Espresso and Milk) function interface
Used pods automatically drop into a built-in receptacle that can store up to 10 pods
Variable temperature system ensures optimum coffee extraction and milk steaming
Manual water level regulator
Height adjustable drip tray
Easily removable, BPA-free water tank makes refilling a breeze
Water reservoir capacity: 33.8 oz. (1L)
15 seconds or less heat up time
LED backlit control panel
Swiss engineered 19-bar pump pressure
Automatic start/stop mode
Auto-off function powers down unit after 5 minutes of inactivity
Plastic and metal construction
Wipe clean exterior
Integrated rinse function conveniently helps clean the brewing system
Measures 14.8" D x 8.2" W x 16.4" H
Weighs 8 lb.
1-year manufacturer's warranty
Imported
Model 11023257
SKU # 40828817
Starbucks Verismo 580 Brewer No Spoken Words
Starbucks® Verismo™ 580 Brewer in Piano Black
27
28
Pods are hard to get and very expensive
I have no problem with the way the coffee tastes but each box of 12 pods is 12$. To make matters worse, only Starbucks and Bed, Bath and Beyond carry them. Other than that, you 'll have to buy them over the internet. Supermarkets don't carry the pods and there is no coffee filter so you can't save money that way. The milk pods are just powders milk and taste just like that. I got this for xmas but if I bought it, I would take it back.
July 31, 2014
Awful Starbucks imitation coffee
Coffee tasted disgusting, almost burnt. Tried coffee, espresso and the milk pods. If the milk pods are left in the machine holder for a couple days, a mold starts to form. Went back to my Keurig.
July 1, 2014
Excellent Coffee Flavor
Usually I'm not into writhig reviews but after buying this unit I have to say that you get what you pay for, in my case I really enjoy a cup of real coffee like from starbucks, and no doubt that this unit is up to those standards, so stop thinking about getting a keurig and just go a head and get this unit, you will be pleased.
March 6, 2014
Great 1 cup coffee maker
This is my first time to buy a single cup brewer. Love the ease and cleanup is simple. The only draw-back is the coffee pods are hard to find in stores - but easy to order on-line with fast delivery time. I'm enjoying trying all kinds of coffee but my favorite is the espresso for lattes with the cream pods - yummy!
February 8, 2014
Decent qality espresso
So we have tried the Keurig and DeLongi espresso machines before trying the Verismo. The Keurig makes very weak coffee even with filling my own pods and sealing it inside a used regular pod and forget espresso the Keurig just can't do it. It does have a large water capacity and heats up pretty quickly. In search of a decent espresso we bought the DeLongi and it is ok but takes too long to heat up and make an espresso. You fill and pack a normal espresso machine cup and arm and lock into place. Enter Verismo. - It uses the Starbucks pods which are the standard k-fee pods that work in other machines by the same manufacturer. You can find others such as the CBTL pods and you can even use these to fill and make your own (sorry BB&B) if you are so inclined. Occasionally a pod will become stuck and can be removed by pulling out the catch tray and using your fingernail and a light pressure - no biggie. As to the quality it is excellent for the price of the machine. I prefer CBTL (BB&B sell this) over Starbucks as it is just as strong but seems less bitter( it is packaged in Italy). I have refilled some CBLT pods with aluminum foil covers (so far no grounds get through) with excellent luck and quality. I use illy from italy (BB&B sells it) . It is expensive but well worth it if you love strong and flavorful but less bitter espresso and coffee. The Verismo heats up very quickly and recommends that you press one espresso empty into a cup and dispose of the water. I also do this after the last one just to clean it out. I do empty and rinse the discard container once I am done ( It will hold quite a few empties. So far we only made espresso and it gives a nice brown foam on top. The temperature seems just about right. To stop the dripping just lift the handle after each use and the pod will drop into the holding bin and be ready for the next one. There is no clock but it does heat up in about 15 seconds and will turn off by itself should you forget. We have only had it a couple of weeks but it is easy to use, efficient, does what it is supposed to do, nothing fancy and small footprint on the counter. I recommend it over the other options we have tried. We have friends with the Nespresso (BB&B sells this) and it is great but a least double the cost but if you want cappuccino you might want to consider it. Four Stars because I know what you can get with a better machine. But for between $100 and $120 this is a great machine. Buy here or elsewhere just buy it. So far no problems and very consistent quality
January 11, 2014
Starbucks Verismo 580 Brewer in Piano Black
This was a Christmas gift for someone special and she wanted to use it when she went home and it didn't work. She was able to change it but it was very disappointing.
January 2, 2014
Do not waste your time and money
The only good thing about it is that it's easy to use. Who can't push a couple buttons? The main problem is that it just doesn't make good coffee. The flavor is not good. And the lattes are AWFUL. I can't even describe what the milk flavor is because I've never tasted anything so strange. I guess it's the powdered milk flavor. It's bad. And yes, I read all the instructions before using. It's not hard to follow the directions; they even come with pictures! Other negatives: 1. The water reservoir is in the back, which is really inconvenient, and it doesn't hold much. 2. It continues to drip for several minutes after the beverage is brewed. 3. The directions say you should clean it every day by taking it apart and rinsing each item. Then clean it monthly with special cleanser and descale quarterly. I don't mind monthly and quarterly, but daily is a lot of maintenance. But most importantly, you just can't fix a terrible taste. It's going back.
December 26, 2013
It is good for making starbucks at home
I really like this product. Was scared to purchase it from all the mixed reviews. It is good coffee and espresso for an out home machine. Honestly you can't expect starbucks quality at home without the exact machines they use. I would suggest this machine to others.
November 27, 2013
Related Searches:
Similar Products: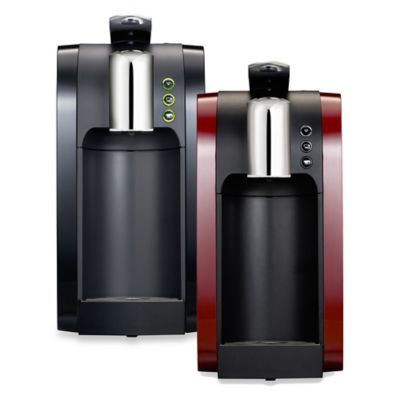 Starbucks® Verismo™ 580 Brewer
Price:
$119.99
Brand:
Starbucks
Categories:
Kitchen > Coffee & Tea > Single Serve Coffee Makers
Make Starbucks coffeehouse beverages in the comfort of your home with the Verismo 580 Brewer. Unit heats up in 15 seconds or less and features a 19-bar pressure pump for perfect espressos or lattes. Uses specially packaged Verismo single-serve pods.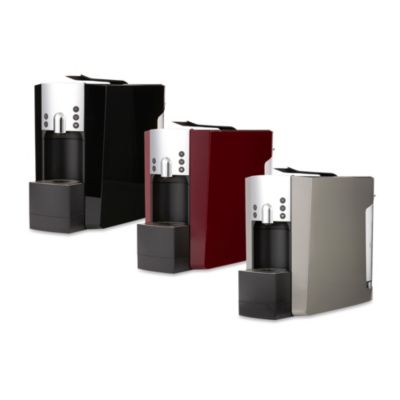 Starbucks® Verismo™ 600 Brewers
Price:
$149.99
Brand:
Starbucks
Colors:
black, burgundy, silver
Categories:
Kitchen > Coffee & Tea > Single Serve Coffee Makers
Showcasing a distinctive modern design and convenient, easy-to-use features, these Verismo 600 single-cup brewing systems let you make Starbucks brewed coffee, espresso, lattes, steamed milk and more with just a simple touch of a button.
Also check out:
$11.99

Free Standard Shipping

(21 Reviews)

$10.99

Free Standard Shipping

(27 Reviews)

$13.99

Free Standard Shipping

Exclusively Ours

(5 Reviews)

$13.99

Free Standard Shipping

Exclusively Ours

(18 Reviews)

$39.99 Each
(206 Reviews)

$11.99

Free Standard Shipping

(34 Reviews)