Quick Fix Meals in Make Ahead Meals DVD with Robin Miller
Her easy, day by day plans help even the novice cook master these quick and tasty recipes.
This Make Ahead Meals DVD features In the Bag, Freeze! And Beef it Up.
It includes such recipes as Linguini with Clam Sauce, Stuffed Pork Chops, Fruit Compote, Peas and Carrots with Chipotle, Baked Ziti with Sweet Turkey Sausage, Olive Studded Pork Loin, Orange and Fennel Salad, Frozen Yogurt with Chocolate Peanut Butter Sauce, Beef Roast with Root Vegetables, Mixed Greens with Raspberry-Walnut Dressing, Green Chile-Beef Empanadas, Chai Tea Smoothies, and more.
Includes bonus footage.
SKU # 14713700
Related Searches:
Similar Products:
Quick Fix Meals in Weeknight Solutions DVD with Robin Miller
Busy people everywhere face the same dilemma - how to get healthy weeknight dinners on the table when you've only got minutes to spare?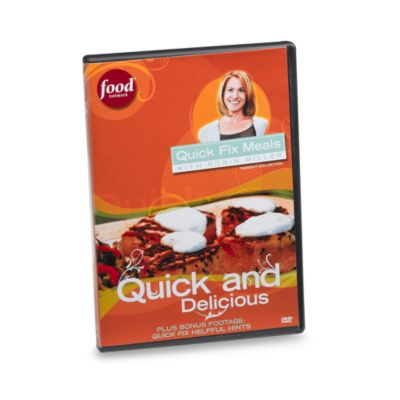 Quick Fix Meals in Quick and Delicious DVD with Robin Miller
Cookbook author, nutritionist, and food journalist Robin Miller guides us through the landmines of getting food on the table nightly with her stress-free meal planning strategies.