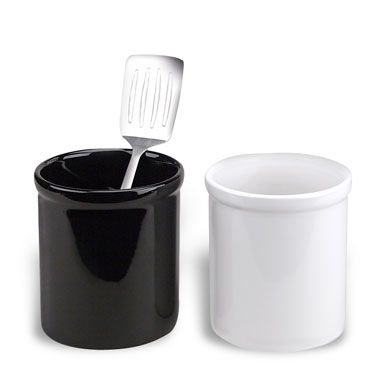 Ceramic Utensil Holder Crock
Measures 7" H x 6" diameter.
Ceramic Utensil Holder Crock
7
9
Product a lot bigger than I thought but will still use it.
June 30, 2014
Simple and chic looking utensil holder
This utensil holder looks great atop my refrigerator. I bought this holder along with the stainless steel one and they both provide me with a way to keep all my utensils organized.
June 6, 2013
Black utensil crock
I already had the white one and bought this one because I have so many utensils. I love it because it is larger than most other crocks.
February 23, 2013
Top Quality
I've owned this utensil crock for NINE YEARS, yes, and it still looks brand new. It has lasted through numerous moves and has held up beautifully. I've tried to replace it many times thinking I needed to spice up my kitchen a bit but those fancier crocks just don't serve the purpose. This crock is sturdy and spacious and I've come to truly appreciate it more and more. Sometimes simple is more.
June 29, 2012
Awesome Size!
This fits all of the utensils I wanted, and will likely fit more! It is a great size and simple!
March 21, 2012
LOVE IT!
These are wonderfully spacious utensil crocks that I find I like much better than any metal ones I have had previously. I got the white to match my kitchen and they are really easy to keep clean even though mine are right next to the stove.
June 30, 2011
PERFECT SIZE!
I received this utensil holder a couple months ago, and I LOVE it! It is really large so I can fit everything I need into it. A lot of others I had seen were just too small. Plus, it's dishwasher safe! Definitely recommend.
January 23, 2011
Related Searches:
Similar Products: