Royal Sovereign QS-1 Coin Sorter
Lightweight, portable design is fun for children, and accurate and durable enough for businesses.
Sorts dimes, nickels, pennies, and quarters.
Pre-formed coin wrappers included.
Measures 9.4" L x 9.1" W x 10.3" H.
SKU # 40386157
Royal Sovereign QS-1 Coin Sorter
4
4
This product is worth it's cost.
This product is well worth what it costs. When used correctly, it saves a lot of time in sorting, counting and wrapping coins. We bought one for our Church to help with VBS offerings and are glad we did.
August 11, 2014
It Works!
Sorts the coins efficiently and quickly. Don't go too fast or it may jam, but reversing the handle a little clears it. Using the "pre-rolled" on one end papers works best.
July 30, 2014
RS CS - Good but off
Awesome coin sorter, however, the coin holders are very fragile and do not count the exact amount. I am still getting used to it. I need to add a few coins to it to ensure the amount each roll is correct
July 30, 2014
Not Worth a Penny
Upside: This coin sorter accepts a large amount of coins in the hopper. Downside: The sorter consistently mis-sorts by placing pennies in the nickel slot. Also, it's always jamming when the handle is turned. Good concept but poor craftsmanship. This item needs tweaking.
November 24, 2012
Related Searches:
Similar Products: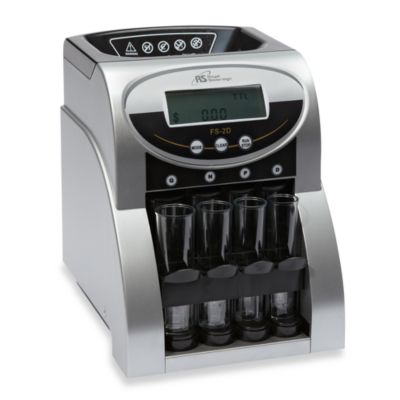 Royal Sovereign Fast Sort 2-Row Digital Coin Sorter
Price:
$99.99
Categories:
More > Audio & Electronics > Home & Office Electronics
Royal Sovereign's FS-2D automatically sorts coins quickly and easily. This machine is great for any home use with the commercial quality expected by businesses.
Also check out:
Twin $19.99 - King $39.99
(73 Reviews)

$10.99

Free Standard Shipping

(127 Reviews)
$12.99

$7.99

Clearance!

(24 Reviews)

$99.99

$10 Manufacturer's Rebate Available

(4 Reviews)

$31.99

Free Standard Shipping

(38 Reviews)

Twin $69.99 - Full/Queen $89.99

Exclusively Ours

(5 Reviews)