Starbucks® Electric Milk Frother
Starbucks® Electric Milk Frother will put the finishing touch on your café masterpieces
Gripping electric base stays put allowing carafe to be removed for easy serving
Double-wall housing with non-stick coating for easy cleaning
Carafe has cordless design that operates silently
Includes milk warming attachment
Switches off automatically
Plastic and Metal construction
Wipe-clean exterior; hand wash carafe with non-abrasive cloth; do not immerse in water or put in dishwasher
Measures 5.75" L x 5.75" W x 7.75" H
1-year limited warranty
Model 011024085
SKU # 40859026
Starbucks Verismo 580 Brewer No Spoken Words
Starbucks® Electric Milk Frother
20
23
frother
I was a bit concerned that the frother would not work ...it seemed to easy...but it was fantastic. In less than two minutes I had the best froth for my coffee. So glad I took the saleswoman's advice. Thank you Debbi
August 18, 2014
This product did not last long
When purchasing, I thought it was a bit expensive for what it is but went for it anyway. I assumed Starbucks would have a good quality product. I loved this at first. It worked great, however, after only using it may 10 - 15 times it no longer works. It does not froth anymore. It just heats the milk and the red light just keeps flashing. This is definitely not worth the price. If you do purchase this product keep the box in case you need to return it.
March 25, 2014
Starbucks Milk Frother
I should have followed my gut instinct and not bought this. The major flaw is the frother in the lid. The coil falls out easily, and so of course went down the garbage disposal. The plastic clips broke within a month or so of use, so I am out of luck. Not recommended.
February 18, 2014
NO FROTH
I love froth and this device only makes hot milk. It was a waste of money, and I am a person who never writes reviews. Do not buy.
September 30, 2013
Wonderful when it works
Purchased this for my wife who is addicted to capuccinos For the first 4 coffees everything worked perfectly. And then it died - now I get a red flashing light and nothing happens. So it will be returned to BB&B for either replacement or refund More disappointing in reading the reviews it appears that this product suffers from frequent failures and NO response anywhere from Starbucks as to the problem and fix. You would think with a major brand to support and protect, they would be upfront and helpful. Is this just another case of too big to fail?
July 24, 2013
returned twice
This machine when it works, works beautifully. Heats milk perfectly and froths to perfection as well. I got my first for Christmas and was excited and in love for two months when it suddenly stopped working. Determined, I returned it and replaced it with another one. It worked for three months this time then it would turn on without me turning it on and would not shut off automatically. The milk kept overflowing. I finally gave up am trying a different brand.
June 29, 2013
not worth it
this was great the first few weeks and then it just stopped working. wouldnt recommend it at all
May 27, 2013
Very Flawed Design
I read all the reviews before buying this frother, and with the Starbucks name, what could go wrong? It was great the first few times, then stopped working entirely. Returned it for another, and it worked well for 3 weeks. Noticed a burn spot on the bottom that could not be cleaned, then it started overflowing, then totally burned the milk. Loved the froth, hated the frother...it's gone now.
April 7, 2013
Related Searches:
Similar Products: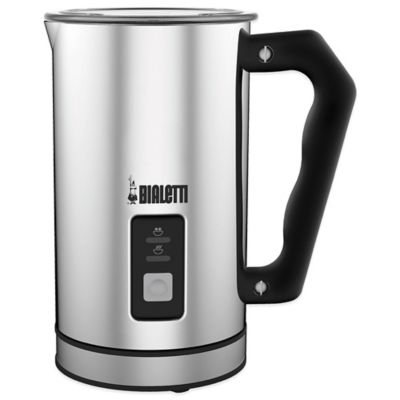 Bialetti® Electric Milk Frother
Price:
$79.99
Brand:
Bialetti
Categories:
Kitchen > Small Appliances > Coffee, Tea & Espresso
When it's time for a delicious homemade Italian café drink, don't forget the milk. With just one touch, the Electric Milk Frother from Bialetti makes creamy, thick milk froth. It's the perfect way to top that cappuccino you've been craving.
Also check out:
$11.99

Free Standard Shipping

(29 Reviews)

$149.99 Each
(18 Reviews)

$9.99

Free Standard Shipping

(11 Reviews)

$11.99

Free Standard Shipping

(14 Reviews)

$11.99

Free Standard Shipping

(3 Reviews)

$11.99

Free Standard Shipping

(7 Reviews)

$11.99

Free Standard Shipping

(4 Reviews)

$11.99

Free Standard Shipping

(4 Reviews)
$11.99

Free Standard Shipping

(5 Reviews)

$11.99

Free Standard Shipping

(4 Reviews)

$9.99

Free Standard Shipping

$89.99 Each

$59.99 Each

Clearance!

(203 Reviews)

$9.99

Free Standard Shipping

(1 Review)

$10.99

Free Standard Shipping

Exclusively Ours

(9 Reviews)

$9.99

Beyond Value

(11 Reviews)

$49.99

$50 Bonus Gift card with $300 Calphalon Purchase

(37 Reviews)