VMV Hypoallergenics Creammmy-Rich intense Moisture Milk for Dry Skin
These conditioning emollients gently-yet-effectively moisturize without clogging pores or adding unwanted shine.
And because the SPF is non-chemical, it won't disturb dry skin-only protect it.
Validated Hypoallergenic: VH -75/76.
100% All-types-of-fragrance free.
100% dye-phthalate-paraben and preservative free.
Non comedogenic.
SPF 15.
For men, women, teens and children (ages 9+).
Imported.
SKU # 40617329
Related Searches:
Similar Products:
VMV Moisture Rich Creammmy Cleansing Milk for Dry Skin
This facial cleanser provides a mild clean for skin that is dry, flaking, itching, over-treated, or inflamed.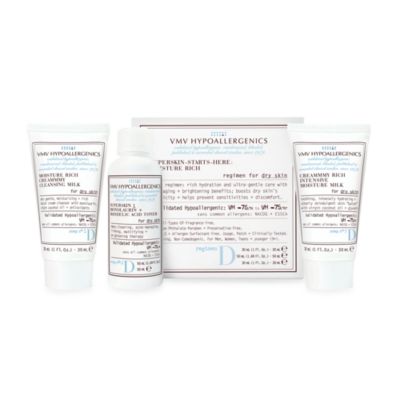 VMV Hypoallergenics SuperSkin Care Starter Kit for Dry Skin
This tiny parcel of take-anywhere care helps boost dry skin's moisture level, retain its elasticity over time, and keep wrinkles away longer. Included items are formulated to provide extra-mild daily care and reduce the possibility of irritations.