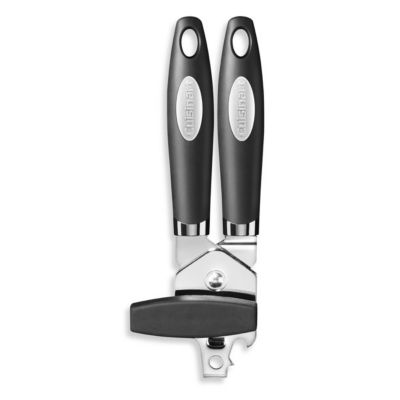 Cuisinart® Can Opener
The black, nonslip grips have an ergonomic design for opening cans with ease.
Features built-in bottle opener.
Dishwasher safe.
Lifetime warranty.
Imported
SKU # 40631660
Cuisinart® Can Opener
10
10
Worked a few times
Looked like a quality product, but the handle and the handle shaft are both plastic and the handle simply stripped off after a few uses. Don't bother with this one.
July 13, 2014
I wish my Mom had read these reviews before buying
I will say it lasted me about a year versus months like the other reviewers but probably because I'm a single person who maybe opens a can a month. However, I've had to use it more to give my cat meds in something he will eat and that something is tuna. I was opening a can this morning and the handle just fell off. It was giving me problems since I started using it more but I thought it was the gear and blade. I should have kept my old one just in case but why would why with a name like Cuisinart??
June 2, 2014
Piece of garbage
For an expensive can opener from a so called reputable company this product is way below par. I contacted Cuisinart and they don't stand by their own product. DO NOT PURCHASE THIS ITEM!
January 23, 2014
Awesome
This is an excellent and well made product. It opens cans so effortlessly. It also a great value it you check the price of the "junk' at places like Walmart.
December 11, 2013
Broke twice
will not buy this product again. I have owned 2 and both broke within 2 months. Would give this 0 stars if possible
December 10, 2013
WASTE OF MONEY!!!!
Lasted a few months. We've had less expensive ones last years. How can Cuisinart put their name on this? Would have given no stars if possible.
October 13, 2013
do not buy this
will only open one can then it will not work again, only had 2 months
October 1, 2013
Worst can opener I have ever had
This can opener is just terrible. My old one, which was 10 years old and rusted, worked much better. I bought this can opener about 2 months ago, and have only used it a handful of times. Yesterday I was opening a can and the handle that you twist came so loose that it doesnt work anymore. There is no way to fix it either. Do not buy this can opener!! Its worth paying an extra 4 bucks for the other one that they sell at this retailer.
May 9, 2013
Related Searches:
Similar Products: