Oceanstar Spa-Style Bamboo Laundry Hamper
Hamper also comes with a canvas liner and two metal rods that make it convenient for carrying clothes to the laundry room without moving the actual hamper.
Wipe clean with a damp cloth.
Natural finish.
Dimensions: 25.5" H x 14" D x 20" W.
Assembly required.
Hardware and other accessories included.
Assembled weight: 22 lbs.
Imported.
90-day manufacturer's warranty.
SKU # 40951065
Oceanstar Spa-Style Bamboo Laundry Hamper
8
8
Great product ! Quality material easy to put together.
October 6, 2014
Good looking hamper
We've been looking for a clothes hamper for our bedroom that didn't look like a basket. This is attractive (more furniture-like) and practical, and a great value.
September 12, 2014
Outstanding value and outstanding look
My wife and were replacing a very old plastic hamper and were looking for something a little more up to date. We wanted a great look at a reasonable price and have both in this hamper. Assembly was quick and the parts fit perfectly.
August 4, 2014
Poor quality
This Laundry hamper is very poor quality. Glue was used to fill poorly fitting areas and defects in the wood. There was glue smeared on the inside and outside of the wood panels that made the product aesthetically displeasing. Quality inspection stickers were adhered to each panel indicating that the company feels this is acceptable quality. I returned the first one and ordered another one hoping that I received a lemon but the second one was just as bad.
July 31, 2014
Spa Style Laundry Hamber
I wanted a hamper that was a decorator piece and this one fit the bill. It goes with the décor in our Master bathroom. It is also large enough to hold my husbands work clothes.
April 14, 2014
I Want to Recommend This (UPDATE)
I'd like to update my previous review. However there does not seem to be a way to edit it. I emailed Oceanstar regarding the problem with the cam inserts and posts and received a reply from Olivia less that 24 hours later. Here was here suggestion: "Sometimes the sides do not come together fully because the hamper is made of solid wood, not compressed wood, it will expand or shrink depending on the humidity level. Can you try to loosen up the threaded posts a bit first and once it is loosened, the cam inserts should rotate easier and lock up correctly." She was absolutely correct. My experience had been almost entirely with compressed products. I loosened the posts (making them slightly longer). They fit farther into the cams and the cams rotated to a secure position. I'm happy to now recommend this beautiful hamper, plus the customer service from Oceanstar.
August 25, 2013
This exceeded my expectations
I love this product. Good size and very well made. I expect to have this for many, many years. Have received a compliment from a visitor on this - and who compliments a laundry hamper!
August 10, 2013
I Want to Recommend This, But...
This hamper looks great. Individual pieces were solidly constructed without apparent defects. HOWEVER, the cam inserts refuse to tighten. No matter how much pressure I apply, they will not tighten that extra half turn necessary to secure them. They immediately begin to loosen through normal use of the hamper, raising the lid etc. If I don't continue to re-tighten them, the whole hamper will come apart. I've put together a LOT of furniture using cams, both home and office. I've never had this problem before. I wish I could recommend this nice-looking hamper, but I can't.
August 1, 2013
Related Searches:
Similar Products: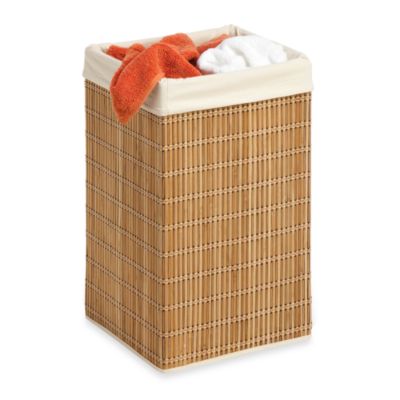 Honey-Can-Do® Square Wicker Hamper with Liner in Bamboo
Price:
$17.99
Brand:
Honey-Can-Do
Categories:
Bed & Bath > Bath Organization & Furniture > Hampers
A smart laundry solution for bedrooms and baths, this naturally beautiful, wicker-style hamper looks as good as it is functional. Crafted from renewable bamboo, this hamper can hold a full load of laundry and comes with a removable cotton liner.
Also check out:
$69.99

Great Value

(25 Reviews)

$70.99 - $70.99
(2 Reviews)

$99.99

Exclusively Ours

(6 Reviews)
$39.99 - $59.99
(5 Reviews)

$24.99

Exclusively Ours

(7 Reviews)