Litter Genie™ Plus Cat Litter Disposal System Refill Cartridge
Easy to replace and long lasting, the Litter Genie Plus Refill Cartridge for Cat Litter Disposal System keeps your litter area clean and free of odor for a healthier, more pleasant environment.
Lasts up to two months for one cat.
SKU # 40839165
Litter Genie™ Plus Cat Litter Disposal Systems and Refill Cartridge
Oh, so you're the new Litter Genie huh? My human says you granted her wish. Now she doesn't have to bag my business and bury it in the trash anymore.
'cause that was awful for the both of us.
Introducing Litter Genie, easy litter disposal. The magic's inside. Simply scoop the clump, drop it in the 5-ply and help lock in odors. Then just empty every two weeks.
Any-who-sal Genie you just keep doing your business, 'cause you know I'm gonna be doing mine. Meow.
New Litter Genie, your wish granted.
Litter Genie™ Plus Cat Litter Disposal System Refill Cartridge
11
13
Litter Genie
It is easy to use. And there is no odor using the Liter Genie.
November 10, 2014
Awesome ptoduct
The Litter Genie is amazing ... I have two - one for each letter box. It truly contains odors and makes litter clean up and disposal so easy!
October 21, 2014
Litter Genie is a life-saver
Buying a litter genie and keeping extra refills on hand has been a time saver for sure! And it keeps our home from smelling like litter. Best money we've ever spent on a pet product!
September 29, 2014
Very convenient
Easy to use. Makes the task of litter box cleaning and disposal very easy.
August 11, 2014
Love this product.
I have two cats and one of them has a very sensitive stomach which can cause quite an odor in the box. I had an electric litter box, but that didn't quite take care of the smell (great for fast clean up, but since the receptacle didn't close all the way therefore bad odors all the time.) Went back to old fashioned box and the Litter Genie. THIS THING IS GREATTTTTT!!! I use either cheap cable ties on the end or tape as it does take quite a bit of the bag material if you tie them and the roll lasts quite a while. Over two months thus far and with this stinky princess, it gets cleaned out quite frequently. Hope this helps.
March 3, 2014
Genie Cat Litter
A phenomenal product. Reduces daily disposal from litter. Able to collect litter for entire week with one disposal. Genie litter refill unit can last month+. Certainly more expensive than plastic bags, but more enviromentally protective. Hope you will maintain an in store supply in the future.
February 3, 2014
WONDERFUL PRODUCT
I purchased the Litter Genie to replace a Litter Locker and I love it. There is no odor from the used litter and the refills last much longer than the ones for the Litter Locker. I have one cat, a large Maine Coon, and I only have to change the bag about every 2 1/2 to 3 weeks and I clean her litter box every day. I highly recommend this product.
March 25, 2013
litter genie cartrige
The litter genie cartrige doesn't hold too many bags by the time you pull the bags down in the genie container and tie. Same issue when removing bag, you, of course must slice off the top and tie off when ready for disposal. The container is decorative and useful, though. Not that spacious for two cats, but doable. I am very particular about the way things look, so THAT is a plus. It does keep the oder under control until ready to take to the outside trash, particularly if you buy the best litter possible as I do. After the cartrige was finished, I just used regular small bags, which I find a lot MORE more helpful and convenient as far as I'm concern. Also, I think the cartrige is way too pricey. Additionally, it is a lot more time-consuming to complete each task.; keeping in mind that you are close to the floor next to a used kitty litter box and a used letter container. I want to get the task done asap.
January 29, 2013
Related Searches:
Similar Products:
Litter Genie™ Plus Pail Cat Litter Disposal System in Navy Blue
Price:
$14.99
Categories:
This compact and portable cat litter disposal system with an easy-carry handle is perfect for small spaces and multiple cat litter box homes. Simple to use, the Litter Genie is ideal for disposing scoopable, clumping cat litter.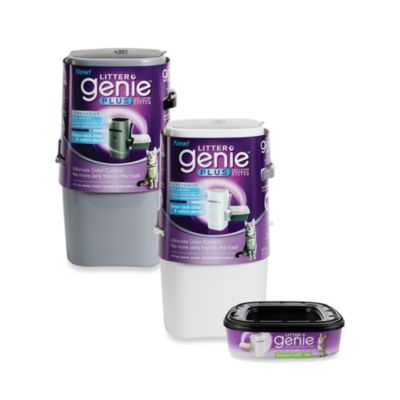 Litter Genie™ Plus Cat Litter Disposal System in Silver
Price:
$14.99
Brand:
Litter Genie
Colors:
silver
Categories:
These quick and hygienic cat waste disposal systems are designed for homes and feature built-in protection that inhibits odor-causing bacteria. Easy to use and effectively seals in odor for a more pleasant home environment.