Litter Genie™ Plus Cat Litter Disposal System Refill Cartridge
Easy to replace and long lasting, the Litter Genie Plus Refill Cartridge for Cat Litter Disposal System keeps your litter area clean and free of odor for a healthier, more pleasant environment.
Lasts up to two months for one cat.
SKU # 40839165
Litter Genie™ Plus Cat Litter Disposal Systems and Refill Cartridge
Oh, so you're the new Litter Genie huh? My human says you granted her wish. Now she doesn't have to bag my business and bury it in the trash anymore.
'cause that was awful for the both of us.
Introducing Litter Genie, easy litter disposal. The magic's inside. Simply scoop the clump, drop it in the 5-ply and help lock in odors. Then just empty every two weeks.
Any-who-sal Genie you just keep doing your business, 'cause you know I'm gonna be doing mine. Meow.
New Litter Genie, your wish granted.
Related Searches:
Similar Products:
Litter Genie™ Plus Pail Cat Litter Disposal System in Navy Blue
Price:
$14.99
Categories:
This compact and portable cat litter disposal system with an easy-carry handle is perfect for small spaces and multiple cat litter box homes. Simple to use, the Litter Genie is ideal for disposing scoopable, clumping cat litter.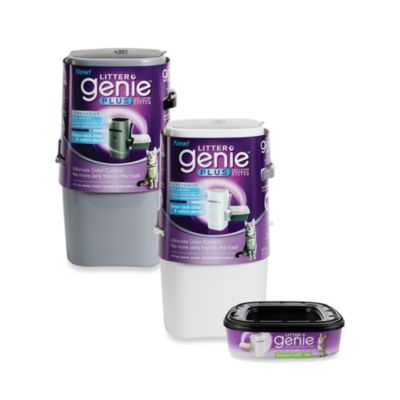 Litter Genie™ Plus Cat Litter Disposal System in Silver
Price:
$14.99
Brand:
Litter Genie
Colors:
silver
Categories:
These quick and hygienic cat waste disposal systems are designed for homes and feature built-in protection that inhibits odor-causing bacteria. Easy to use and effectively seals in odor for a more pleasant home environment.