Chef'sChoice® Diamond UltraHone Knife Shapener
Chef'sChoice® Diamond UltraHone Knife Sharpener features a two-stage sharpening provides fast, strong and durable results
The first stage sharpens knives using 100% fine diamond abrasives
The second stage UltraHones the edge using advanced micron size 100% diamond technology
Patented, plastic spring guides for knife ensure precise angle control and eliminate guesswork
Safe for quality knives
Works on both straight edge and serrated knives (Knife not included)
Measures approximately 10 3/8" L x 6 1/8" W x 6 1/8" H
UL listed
1-year limited manufacturer's warranty
SKU # 15804122
Chef's Choice® Diamond UltraHone Knife Shapener
Hi, I'm Nancy from Bed, Bath & Beyond and I'm here to tell you about the Chef'sChoice Diamond UltraHone Knife Sharpener.
Chef'sChoice is a leader in producing both manual and electric knife sharpeners that you can use on professional-quality cutlery.
The Diamond UltraHone Knife Sharpener can be used on kitchen and household knives, sporting and pocket knives, as well as straight-edge and serrated-edge cutlery. Properly caring for your knives is the first step in knife safety.
A dull knife will always be an unsafe knife, and the sharper your knife is the easier it'll be to chop. If you're requiring too much effort to prep your food then it's time to sharpen your knives.
This sharpener has two stages: one for sharpening, and one for honing and polishing to a razor sharp edge. It uses a hundred percent diamond abrasives. Because of their extreme hardness diamond abrasives sharpen without overheating or damaging the blade. The result is a perfectly sharp, safe knife that holds its edge much longer.
Let me explain the basics to sharpening your knife. First, turn the machine to face you and always be sure that you're using a clean blade. You're going to pull the blade through the slots in stage one alternating the left and right side.
Move on to stage two by pulling the blade through on each side to achieve your razor sharp edge. The patented inside springs will hold your knife securely against the guides to ensure that your knife is sharpened to the precise angle.
Your knives are one of the most important tools in your kitchen. So always check out the manual that comes with the machine for complete details and tips for sharpening all types of knives.
The Chef'sChoice Diamond UltraHone Knife Sharpener is available online and at a Bed, Bath & Beyond store near you.
Chef'sChoice® Diamond UltraHone Knife Shapener
1
1
Sharp at last
Huge improvement over manual sharpener. Finally got my kitchen knives back to the sharpness they originally had. Quick and easy. Highly recommend.
July 21, 2014
Related Searches:
Similar Products: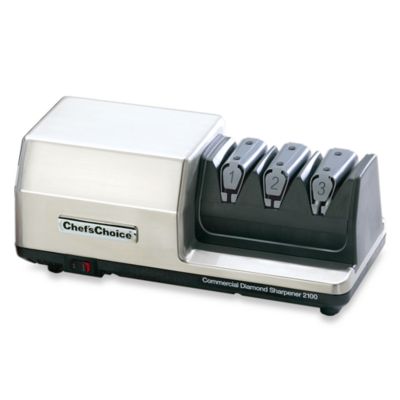 Chef's Choice® 2100 Commercial Diamond Hone 3-Stage Knife Sharpener
Price:
$599.99
Brand:
Chef'sChoice
Categories:
Kitchen > Cutlery > Knife Sharpeners
Designed to sharpen commercial kitchen knives, this revolutionary 3-stage knife sharpener can be used on fillet knives, butcher knives, sports knives and all fine edged knives.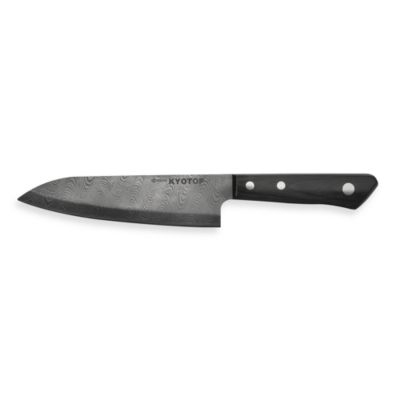 Kyocera Kyotop Damascus Ceramic 6-Inch Chef's Knife
Price:
$249.99
Brand:
Kyocera
Categories:
Kitchen > Cutlery > Open Stock Knives
The strength and density of ceramic allows the blades on these knives to be ground to microscopic precision with diamond wheels.