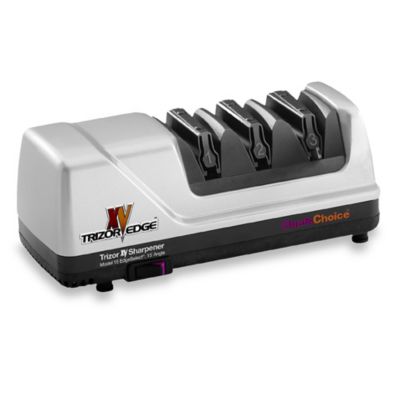 Chef'sChoice® Trizor XV Sharpener EdgeSelect # 15
It's also ideal for converting traditional 20 degree factory edges of household knives into high performance Trizor XV edges.
It combines the strength and durability of the Trizor edge with the flawless, ultra-sharp 15 degree XV technology.
The advanced, patented flexible, spring guides provide accurate control of the sharpening angle, while the 3-stage EdgeSelect system is the optimum in versatility for the perfect edge for each cutting task.
Sharpener is for both straight edge and serrated blades.
Three-year limited warranty.
SKU # 17749218
Chef'sChoice® Trizor XV Sharpener EdgeSelect # 15
1
1
IF you know Knives -- Get this sharpener!!!!!
Okay, what to say first. I have been around knives and kitchens for over 35 years and this is a fantaastic sharpner. I got the original Trizor for Western knives that had flat vibrating sharpening surfaces, and I ...well let's just say that I wouldn't have recommended it. BUT, and this is a BIG but, this is NOT that old version. It has sharpening guides, rotating wheels, and the instructions are WAY better than the older style. Anyway, here's the skinny, This IS a fierce sharpener! The best I have EVER seen! I got this sharpener because I have beenpurchasing the new Calphalon Katana knives from BBB and their blades require being sharpened to 15 degrees. To try this sharpener out I sharpened some old Wolfgang Puck knives I had, (per instructions) and they are now soooo sharp that could shave with them. They cut through the edge of a sheet of paper with no effort what-so-ever. But, make sure that you follow the instructions exactly when "converting" a western knife to the 15 degree Asian style. I get better cuts and bite from my knives that use the Asian blade angle VS the Western style blade. So I prefer it. I would use BBB 20% coupon to get the all time best deal on the web $128 + tax . But IF, like me, you can only seem to get this sharpener from the BBB web site, see if the local store will give you the 20% discount if you bring in your web receipt. Mine did.
February 25, 2014
Related Searches:
Similar Products: