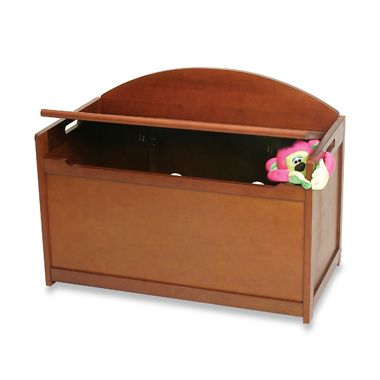 Lipper International Cherry Toy Chest Bench
2 air holes on the back of the chest keep things ventilated to prevent toys from becoming musty
Smooth surface is easy to wipe clean with a cloth
Measures 33.38" W x 18.5" D x 24.25" H
SKU # 15010320
Lipper International Cherry Toy Chest Bench
4
4
Great Find
It has served our storage issue well!
June 3, 2011
Cherry color in the toy box was very rich looking
Purchased two as gifts, seen light color in the store didn't like it..Ordered the Cherry, WOW! Easy to assembly..Made nice..And the color was Beautiful and rich looking...Not cheap looking at all..I was so EXCITED to give it..it looked like a piece of furniture...
December 28, 2013
Very Poor quality
This toy chest is very poorly made. There were spots on the panels that were not "stained" or varnished and knots in the curved panel. Looks to be a spray on color that missed many spots. We started to assemble and couldn't even take it apart to return it because the screw heads are so soft that the tool provided strips them. A call to customer service provided no relief other than to tell us to take it back to a store since we couldn't put it back in the box.
April 9, 2013
Cheap Design
When we bought the product and put it together, we thought this was going to be a nice sized toy chest for our son. It came as a disappointment when the entire top lid shattered after less than 5-10 openings/closing (1-2 days with a toddler). There are 2 metal hinges for this product which protect your child from having their fingers slammed by the wood top. By design, the hinges provide resistance. However the lid itself which the hinges push against is held together by a few small, thin nails. The resistance of the hinges pushing against the lid/small, thin nails shattered the lid. We are getting in touch with BBB to see about a refund.
January 1, 2013
Related Searches:
Similar Products: