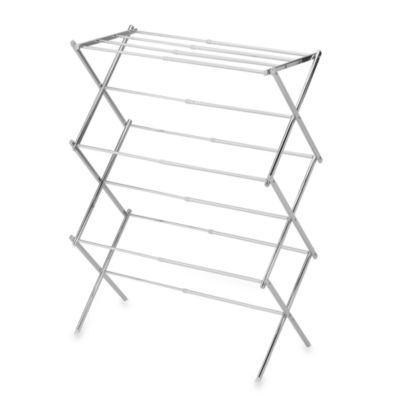 Honey-Can-Do® Chrome Dryer
Measures 29.5" D x 41.38" H for 7' of total drying space
Expands from 14.5" W to 18" W
SKU # 11818528
Honey-Can-Do® Chrome Dryer
8
9
Waste of money
This item was a waste of money. I didn't have the product long and the rings began to warp. It was too late to return the item and I couldn't replace the rings or the bars. I would rate this a negative 1 star
June 1, 2014
Rickety
When purchasing this product, I thought that "chrome" would make for a sturdier rack. The problem is the means of hooking the rack in place once assembled. Plastic rings on the top rack are meant to hook over screws on either side. After about the 2nd use, however, one of these rings began to warp and bend to the point that it could not longer hook over the screw and the rack could no longer bear any weight without collapsing. Today it is held together with duct tape, and we never attempt to collapse it. My recommendation: save some money and buy a more reliable bamboo rack.
December 31, 2012
Flawed Design
I like that the dryer is sturdy, however there are plastic rings that are in the middle of the rods and they leave bumps on the clothing.
July 6, 2012
Pretty Happy with it.
We had an old racketty one before this one which was very cumbersome. This one is so much easier to store, set up and take down. I reccomend it the only issue we have is more a buyer issue that we wished it was wider to lay things flatter.
May 7, 2012
chrome dryer review
This product is fine, it functions as it should. Unfortunately for me, I ordered it by looking at the picture and not the actual type-written dimensions of it. My own fault, it's very narrow, barely wide enough for a man's tee-shirt. Buyer beware, that's all.
December 1, 2011
Not for heavy duty use
This rack is fine, but beware that it needs to be expanded upon receipt. It is also not as sturdy as a wood rack of the same size might be. It's fine for light clothing, but I wouldn't want to drape any area rugs or heavier items over it.
October 5, 2011
Well worth the price
It really works so much better than the wood drying rack.
September 14, 2011
Works great
I bought this when my dryer quit working, wish I'd bought two as the only thing I didn't like about it was the small size (even at full extent there wasn't quite enough room to dry everything I needed to dry. Part of that could be solved by doing smaller loads more often). It is sturdy enough to dry a load of jeans and stable enough that I didn't worry about it tipping over and spilling clothes on the floor.
June 12, 2011
Related Searches:
Similar Products: