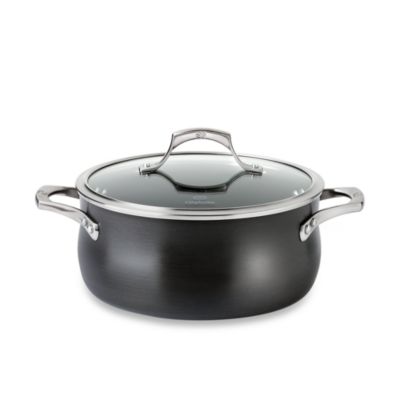 Calphalon® Unison™ Nonstick 5-Quart Dutch Oven
Revolutionary Slide Nonstick surface releases food effortlessly, essential for creating tender omelettes and delicate sauces
Specially textured Sear Nonstick surface seals in flavor to create juicy braised beef, tuna, and vegetables.
Hard anodized exterior with a nonstick interior for lasting use, effortless food release and easy cleanup.
Oven safe to 500° F
Dishwasher safe
Lifetime warranty
SKU # 16664596
Calphalon® Unison™ Nonstick 5-Quart Dutch Oven
14
15
Great addition to cook set
This is a great addition to my cookware set. I did some research on which cookware set is best and would last the longest and I kept going back to Calphalon. The life time warranty and dishwasher safe made these my choice. I have been using them for a few weeks now and I am very happy with my choice!
June 20, 2013
All Good
I have only used my Dutch oven a few times, but am very happy with its features and performance. 'Gotta love the glass lid that fits OK, and also fits well inverted for storage. The capacity is right at 5 quarts when filled to the very brim. The outside diameter is 10" excluding the handles, 13 1/4" including handles. The area that makes contact with my flat top range is 8" in diameter. The pot is 4 1/4" tall, the lid about 2 1/2". It weighs 3 lb. 3 oz. without lid, 4 lb. 14 oz. with lid.
June 16, 2014
Love it!
I purchased this Dutch oven because I was tired of my old cast iron one. It was money well spent. I make a lot of soups, chilli, etc. and this is perfect for that. Food cooks evenly, it does not stick, & clean up is a snap. I would recommend any of the Caphalon Unison pieces. My husband even appreciates them & has told me to order more. That is a great recommendation.
October 1, 2013
Still like new
I bought this Dutch Oven a month ago to replace a cast aluminum Dutch oven that we have had forever. I have only had the opportunity to use it twice so far. I have used it to sear ground beef for tacos and again to sear ground beef for a spaghetti meat sauce. The sear non-stick works very well. I washed the Dutch oven by hand after each use even though it is rated for dishwasher use. One review I had read before purchase stated that the stainless steel rivets inside the pot would get coated with food and be hard to clean. I had no issue cleaning the rivets as well as the non-stick surface.
September 18, 2013
Light Weight Dutch Oven
I love this dutch oven. It works for me. I also bought the 7 qt dutch oven that I will be using for the holidays. The 5 qt that I have is wonderful. It's not overly heavy and easy to transport. I have been collecting Calphalon Cookware for many years. They retain the heat evenly for more efficient cooking. I just love it. The best feature is the weight of the dutch ovens. As much as the Le Cruset (sp ???) cost, I refused to buy them because of the weight. They are super heavy. Calphalon dutch ovens are way lighter. I love it.
September 10, 2013
I love this dutch oven!!!!
I love this "pot", we looked at a number of large dutch ovens and finally agreed upon this one. Im very happy, its the perfect size, great for soups, stews and a variety of other things! It cleans up in a snap. The cover is perfect to see into! We both love this pot so much that we joke about if we ever separated we "fight" each other for custody of it!
September 10, 2013
Excellent product !!!!!
I bought this 3 years ago and it was the best decision of my life. It was as if Michael Angelo found his brush !!! We are an Indian family and I cook a LOT of Indian food which is heavy duty cooking !! As part of the routine, I often caramelize onions, brown meats for stews,and slow cook tomatoes and onions for spicy Indian curry bases. All these processes typically take anywhere from 20 mins to 2 hours depending upon the dish. And I am very, very happy with the performance of this Dutch Oven. The cooking surface browns meats evenly. The glass in the lid is top quality and has lasted all through these years inspite of the intense heat it had to endure on the stove top and in the dishwasher. The lid is tight which does not let steam escape ( so important while slow cooking ).The handles are still strong and perform their job very well. Compared to all other brands, these handles are really, really sturdy. They do remain fairly cool if you cook something within 30-45 mins time frame. But as mentioned earlier, my cooking typically takes 1.5 hours on average with intense heat, and so they do become slightly hot ( but not too hot).The volume of the 5-qt is perfect for cooking for a family of 4. And the best part is that it is completely dishwasher safe. What more can one ask !!  I cannot imagine my kitchen without this Dutch Oven. I use it everyday !!!
September 10, 2013
My First Pot Experience
When I first saw Chef Symon advertising this line the word "sear" got my attention. I admit to being a bit of a cooking purist - don't say sear unless you mean it. This line is revolutionary - the sear is as fine as any in cast iron, AND you can clean it simply!? I was so in love with this piece that I started reaching for it every day...browning onions and other aromatics, searing and braising roasts, even making foolproof ice cream custards....whatever! I'm not sure that every home cook will realize the true potential of Unison - does everyone know what searing is and when to use it? The other thing about this small Dutch oven is that although the sides are not low, the quality of the sear and the pot itself makes it possible to use it for browning as you might use a skillet, and the ability to brown and braise in oven or on cooktop makes it a cost-effective addition to any kitchen arsenal.....I have made roux and gravies in this one pot and turned cheap cuts of meat into luscious, delish and fork tender entrees and seafood into every gumbo, paella and cioppino imaginable. I think this is a great starter piece , as well as a practical addition to ANY batterie de cuisine!
June 6, 2012
Related Searches:
Similar Products: