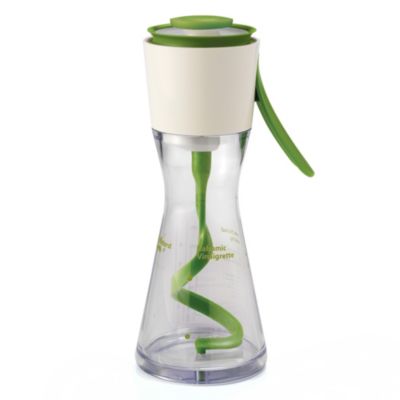 Chef'n® Emulstir™ Emulsifier and Salad Dressing Mixer
Replace the top and squeeze the handle
Lever-activated stir stick mixes everything evenly and effortlessly
Top rack dishwasher safe
Measures 8" H x 3" dia.
Limited lifetime manufacturer's warranty
SKU # 16036528
Chef'n® Emulstir™ Emulsifier and Salad Dressing Mixer
3
3
GREAT FOR VINAIGRETTES
I sample my vinaigrette dressings for my work, and of course, they tend to separate. This mixer makes it so easy to serve (I may give out as many as 200 samples of my dressings on lettuce in a 6 hour period). Just squeeze to stir and pour. I prefer to mix my vinaigrette in a large glass measuring cup first. I use honey as a sweetener frequently, and its just easier to get it completely mixed in. (Honey also helps so it doesn't separate). For home use, this mixer is great because we can store vinaigrette in the refrigerator then stir and serve right from the mixer.
December 29, 2013
excellent
i love love this !!! i love the recipe on the bottle as well fast and easy!!
December 6, 2013
Perfectly mixed dressing with every Pour!
I love this salad dressing mixer for a perfectly mixed dressing with every pour. No longer do I get just oil, but a perfectly blended dressing every time.
November 20, 2013
Related Searches:
Similar Products:
Also check out:
$24.99 - $29.99
(50 Reviews)