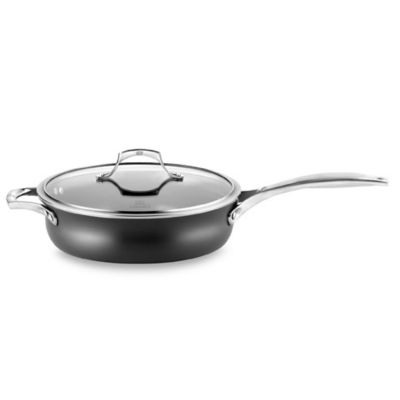 Calphalon® Unison™ Sear Nonstick 4-Quart Covered Saute Pan
First, the revolutionary Slide Nonstick surface releases food effortlessly, essential for creating tender omelettes and delicate sauces
Secondly, the specially textured Sear Nonstick surface seals in flavor to create juicy braised beef, tuna, and vegetables
Each surface is designed to enhance the specific cooking purposes of the pan
Free your culinary spirit with Calphalon® Unison™ nonstick cookware
Hard anodized exterior with a nonstick interior
Oven safe to 500°
Dishwasher safe
Lifetime warranty
SKU # 16613401
Calphalon Unison Nonstick
I'm Iron Chef Michael Simon, and I'm going to talk to you about the latest revolution in nonstick cookware, Calphalon Unison Nonstick. What makes Calphalon Unison Nonstick so unique is it has two surfaces; slide nonstick and sear nonstick. So the great thing about the Calphalon Unison sear pan is in traditional nonstick, you just don't get the sear on meat that you'd like. Look at that. You get the great professional sear results all in a nonstick pan. And another great thing about the Calphalon Unison Nonstick is it could go right in the oven. So off the stove, right in our hot oven, and we're just going to let that stay finishing up.
Slide nonstick is a revolutionary ultra smooth surface perfect eggs, omelets, and sauces. So we have our great pan roasted steak, and our over easy egg topped with blue cheese, right on top of the steak. Look at this. It slides right out cheese and all. And you get professional results with easy clean up because Unison Nonstick is dishwasher safe. And each surface enhances the specific purpose of the pan. Omelet pans have slide nonstick, sauté pans have sear nonstick, and every set is complete with both slide and sear pans. Calphalon Unison Nonstick. Professional results. Nonstick convenience.
Calphalon® Unison™ Sear Nonstick 4-Quart Covered Saute Pan
2
2
I'm sold
I just about...dropped my pants when the clerk rang up my purchase. Thank goodness for the 20% coupon, but still it was a jolt. SO expensive! And then I cooked with it. OMG! What an awesome pan! It sears beautifully, roasts superbly. All the flavor and juices are there when you're through and you had to do very little--the pan does it all! I'M SOLD on this cookware!!
March 25, 2011
Great for simmering sauces!
I use this pan to make Vodka sauce, the heat spreads out evenly so that the sauce simmers without going dry.  This allows the flavors to meld together creating a very flavorful sauce!!! I have tried different pans but the liquids evaporate out instead of simmering.  
October 1, 2013
Related Searches:
Similar Products: