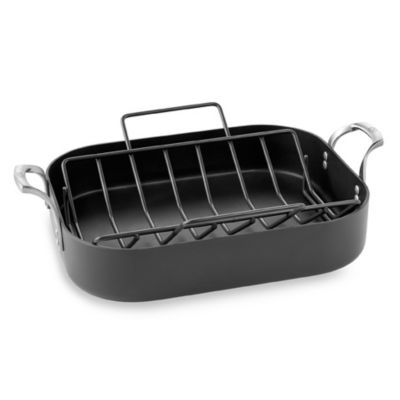 Calphalon® Unison™ Sear Nonstick Roaster Rack
First, the revolutionary Slide Nonstick surface releases food effortlessly, essential for creating tender omelettes and delicate sauces
Secondly, the specially textured Sear Nonstick surface seals in flavor to create juicy braised beef, tuna, and vegetables
Each surface is designed to enhance the specific cooking purposes of the pan
Free your culinary spirit with Calphalon® Unison™ Nonstick cookware
Hard anodized exterior with a nonstick interior
Oven safe to 500°
Dishwasher safe
Lifetime warranty
SKU # 16619000
Calphalon Unison Nonstick
I'm Iron Chef Michael Simon, and I'm going to talk to you about the latest revolution in nonstick cookware, Calphalon Unison Nonstick. What makes Calphalon Unison Nonstick so unique is it has two surfaces; slide nonstick and sear nonstick. So the great thing about the Calphalon Unison sear pan is in traditional nonstick, you just don't get the sear on meat that you'd like. Look at that. You get the great professional sear results all in a nonstick pan. And another great thing about the Calphalon Unison Nonstick is it could go right in the oven. So off the stove, right in our hot oven, and we're just going to let that stay finishing up.
Slide nonstick is a revolutionary ultra smooth surface perfect eggs, omelets, and sauces. So we have our great pan roasted steak, and our over easy egg topped with blue cheese, right on top of the steak. Look at this. It slides right out cheese and all. And you get professional results with easy clean up because Unison Nonstick is dishwasher safe. And each surface enhances the specific purpose of the pan. Omelet pans have slide nonstick, sauté pans have sear nonstick, and every set is complete with both slide and sear pans. Calphalon Unison Nonstick. Professional results. Nonstick convenience.
Calphalon® Unison™ Sear Nonstick Roaster Rack
3
4
Love the size!
I absolutely love the size and ease of cleaning. I use this pan to boil my extra large corned beef. 
September 10, 2013
The roaster is nice and sturdy. It browned the turkey drippings nicely, so the gravy turned out delicious! I used a silicone whisk and it worked great with no scratching. It fit perfectly in my oven and on my stovetop. I have a glass flat stovetop and had no problems with it. My only negative, which is partially my fault, is the finish on the rack is extremely fragile. I washed it in the sink and forgetting it was non-stick used the back of my (regular) sponge and 90% of the finish came off. I washed it regular and didn't scrub hard, but make sure you use only the soft side of the sponge or a rag to clean. I haven't used it again, so I'm not sure what effect if will have, but I'm not too worried.
December 8, 2011
Roaster with rack
We love it, as we do the other Calphalon products we purchased. Calphalon is the best investment we have made in a long time.
December 14, 2010
Related Searches:
Similar Products: