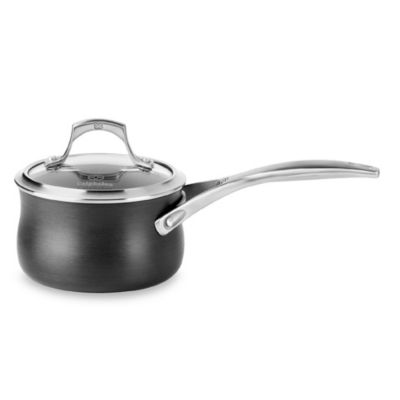 Calphalon® Unison™ Slide Nonstick 1-Quart Covered Saucepan
First, the revolutionary Slide Nonstick surface releases food effortlessly, essential for creating tender omelettes and delicate sauces
Secondly, the specially textured Sear Non-stick surface seals in flavor to create juicy braised beef, tuna, and vegetables
Each surface is designed to enhance the specific cooking purposes of the pan
Free your culinary spirit with Calphalon® Unison™ Nonstick cookware
Hard anodized exterior with a nonstick interior
Oven safe to 500°
Dishwasher safe
Lifetime warranty
SKU # 16613444
Calphalon Unison Nonstick
I'm Iron Chef Michael Simon, and I'm going to talk to you about the latest revolution in nonstick cookware, Calphalon Unison Nonstick. What makes Calphalon Unison Nonstick so unique is it has two surfaces; slide nonstick and sear nonstick. So the great thing about the Calphalon Unison sear pan is in traditional nonstick, you just don't get the sear on meat that you'd like. Look at that. You get the great professional sear results all in a nonstick pan. And another great thing about the Calphalon Unison Nonstick is it could go right in the oven. So off the stove, right in our hot oven, and we're just going to let that stay finishing up.
Slide nonstick is a revolutionary ultra smooth surface perfect eggs, omelets, and sauces. So we have our great pan roasted steak, and our over easy egg topped with blue cheese, right on top of the steak. Look at this. It slides right out cheese and all. And you get professional results with easy clean up because Unison Nonstick is dishwasher safe. And each surface enhances the specific purpose of the pan. Omelet pans have slide nonstick, sauté pans have sear nonstick, and every set is complete with both slide and sear pans. Calphalon Unison Nonstick. Professional results. Nonstick convenience.
Calphalon® Unison™ Slide Nonstick 1-Quart Covered Saucepan
34
36
Calphalon Unison saucepan
I returned it. The shape was too tall and not wide enough for my uses.
February 10, 2014
1 Qt Pan is Awesome and sexy
Great pan. No stick and great design. Looks cute and has is practical and has nice soft curves.
October 20, 2013
Great pan
I Love this pan and all my other unison nonstick!!!
October 4, 2013
Smaller than I expected
It is an excellent little pan, up to the expected Calphalon standard, but sure doesn't seem to hold 1 qt. It is useful, but now I need a larger one....
September 8, 2013
Top Pot!
I have a set of Tri-Ply I love cooking with. But the Unison Nonstick is without a doubt so much better! I dont have to butter or oil the pan before I use it. Nothing sticks, its so easy to clean, it heats evenly and quickly. I actually asked for Unison pots for Christmas and my birthday because I love it so much!
January 21, 2013
Impressed
I've wanted CAPHALON for years an I must say I'm very Happy with this product!
March 20, 2012
Love them
Love this cookware. Cooks evenly and cleans without any effort. Makes cooking a pleasure
March 8, 2012
I am very happy with my Calphalon 1-qt sauce pan. I have been buying each pan/pot piece by piece so I could have a complete set. I just love Calphalon cookware.
January 20, 2012
Related Searches:
Similar Products:
Also check out:
$49.99

$50 Bonus Gift card with $300 Calphalon Purchase

(141 Reviews)

$49.99

$50 Bonus Gift card with $300 Calphalon Purchase

Beyond Value

(65 Reviews)

$6.99

$50 Bonus Gift card with $300 Calphalon Purchase

(6 Reviews)

$99.99

$50 Bonus Gift card with $300 Calphalon Purchase

(2 Reviews)

$99.99

$50 Bonus Gift card with $300 Calphalon Purchase

(25 Reviews)

$19.99

$50 Bonus Gift card with $300 Calphalon Purchase

(33 Reviews)