Innobaby Sippin' Smart EZ Flow Straw Sippy 10-Ounce
Designed to be leak-resistant even when flipped, the EZ Flex smart straw has a weighted stainless steel ball that also provides continuous flow.
Straw tip is durable and comfortable with a bubble-shaped curve that also prevents slip-free sipping.
Cup also includes a 100% leak-proof EZ grip lid with silicone seal.
Tip-resistant curved base and wide opening makes cleaning easy.
Includes a straw cleaning brush.
Top-rack dishwasher safe.
10-ounce capacity.
Age 6 months and up.
Imported.
Innobaby Sippin' Smart EZ Flow Straw Sippy 10-Ounce
4
5
Love/Hate Relationship with this Cup
After trying over half a dozen sippy cups, this was the only cup my daughter really took to- she loves them! But I quickly ripped the seal ring trying to take it apart to clean it, but since she loved it so much, I ordered two more (expensive, and you can't get replacement seals!) And, it really is a pretty cool concept, and she can actually get all the liquid out (which she couldn't from some sippies). Now for the bad: other reviewers are right, these cups leak like CRAZY. Each time you use or refill, you have to adjust the seal and press it back in perfectly, release the valve, and close it up just right. And then it still may leak out the straw or the side of the cup, and I have gotten water and milk all over our carpet, my baby girl when we go on walks or in the car, or myself, or all three! And if you are heating up milk in this cup (or bringing it out of the fridge) prepare to work the valve a lot- or it will shoot liquid out the straw like crazy. And on the pickier sider- they only have mL measurements on the side (which would be great if they had ounces too), and I agree with others- the base is so wide that it does not fit in stroller cupholders, or diaper bag pockets. So, as I said- it's a love/hate relationship for us with these cups. Baby Girl loves and Mama fights with daily. I hope they can improve these issues!
August 23, 2014
Terrible design. Leaks.
Looks cute but the lids hit my babies in the face if not pushed all the way open. When set down it leaks all over. Not worth the money. Needs to be redesigned.
August 5, 2014
Constantly leaks
If it's not leaking from the straw, it's leaking because the ring valve is loose once again. This cup has a great concept, but in reality it's not functional. I tried trouble shooting with someone from the company several times. They even sent me another cup, which leaks just as much. I quickly stopped using it in my diaper bag after several spills. The worst one leaving me with milk all over my bag and stroller and leaving me with no milk to give my daughter. I now have only been using it with water at home and I always have water everywhere. Also if it falls on the floor the lid pops off and you have the entire amount of liquid that was in the cup all over the floor. For the price it costs it should be of much better quality.
May 28, 2014
Best Sippy Cup
I bought four different types of sippy cups and my daughter refused to drink from all of them. A friend suggested using a straw, so I began searching for a sippy with a straw. I looked at several designs and tried this one. My six month old loved it and drank from it almost immediately. I love how the straw is weighted to always assure suction of the liquid inside. I'm going to buy one for home and one for traveling.
February 17, 2013
Related Searches:
Similar Products: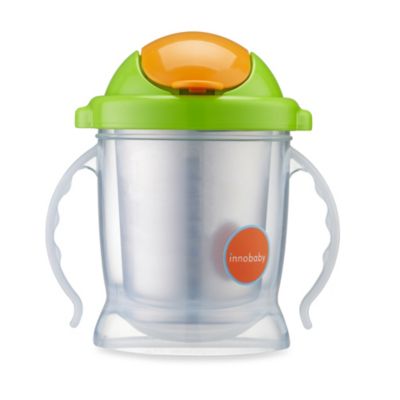 Innobaby Sippin' Smart™ EZ Flow Stainless Sippy in Green
Price:
$19.99
Brand:
Innobaby
Categories:
Perfect for anyone looking for an innovative, durable and leak-proof sippy cup, Innobaby's Sippin' Smart EZ Flow Stainless Straw Sippy allows for easy drinking in any position with its EZ Flow design. BPA-free, phthalates-free, PVC-free and lead-free.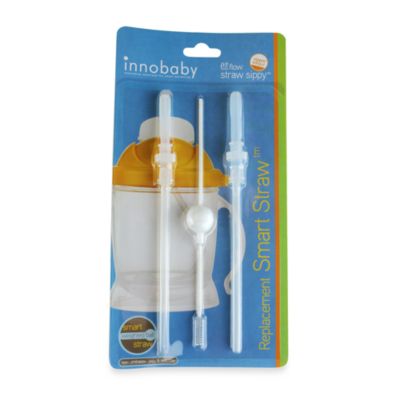 Innobaby Sippin' Smart™ EZ Flow Replacement Straws (2-Pack)
Price:
$7.99
Brand:
Innobaby
To be used with the Sippin Smart EZ Flow Straw Sippy, this smart straw features a weighted stainless steel ball design that provides continuous flow.
Also check out:
$10.99

Free Standard Shipping

(120 Reviews)
$19.99 - $21.99
(1 Review)

$39.99 Each
(206 Reviews)

$18.99

Free Standard Shipping

(7 Reviews)

$10.99

Free Standard Shipping

(10 Reviews)