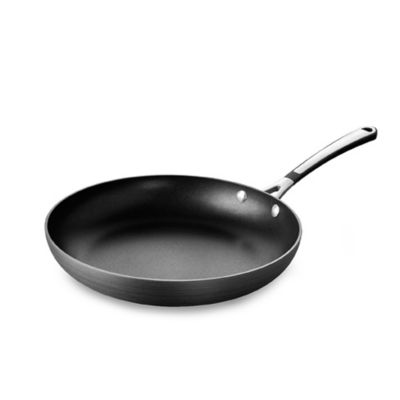 Simply Calphalon® Nonstick 12-Inch Omelet Pan
Nonstick cooking surface for effortless food release and easy cleanups.
Contoured silicone and brushed stainless handle for comfortable and secure handling.
Oven safe to 400° F.
Hand wash.
Imported.
Ten-year warranty.
SKU # 15094800
Simply Calphalon® Nonstick 12-Inch Omelet Pan
10
11
excellent product,well designed to use and to clean
November 27, 2013
Non-stick coating is very weak!
I bought this pan 2-1/2 years ago and used it carefully, always with a Calphalon plastic spatula and never used anything harsh to clean it. The non-stick is now completely gone in the center and food sticks and burns in that area. I've never had a skillet fail in such a short period - obviously just a bad product.
June 24, 2014
this pan did not make the grade
I got this 2 or 3 years ago for Christmas , and very happy with the weight. But the nonstick started flacking off, and the outside coating just faded away. Very disappointed with Brand name and reviews.
April 12, 2014
Great Pan
Have had this pan for a few months and couldn't be happier.
October 2, 2013
Great sauté and general cooking pan!
This is a great pan for sautéing or cooking dishes for a group of up to 4 people.  Nonstick finish is great and very durable, cleans up easily.  
October 1, 2013
Perfect Pan
I've had this pan for a while now and love it. I have since started accumulating the Contemporary line because I think they look nicer than the Simple line. And I bought the 8" & 12" Contemporary pans but I couldn't part with this one. There is something different about it despite they're all nonstick. It might slightly less thicker than the Contemporary. It cooks faster and like everyone else says, so easy to clean. If there are any negative reviews on here it is because they didn't take care of it or read the care instructions. 
September 11, 2013
Love these pans
I wish it had a top! But the pans are great bought one about 5 years ago and use it about 5 days a week and it is now starting to show wear.
September 5, 2013
Great pan for eggs
Just like the title says. Great pan for eggs. That's what I bought it for
August 30, 2013
Related Searches:
Similar Products:
Also check out:
$299.99

$50 Bonus Gift card with $300 Calphalon Purchase

(64 Reviews)

$199.99

$50 Bonus Gift card with $300 Calphalon Purchase

(62 Reviews)

$149.99

$50 Bonus Gift card with $300 Calphalon Purchase

(2 Reviews)

$159.99

Bonus 5.75 quart Dutch Oven with $149.99 Cuisinart Purchase

(8 Reviews)

$179.99

$50 Bonus Gift card with $300 Calphalon Purchase

(58 Reviews)

$49.99

$50 Bonus Gift card with $300 Calphalon Purchase

(8 Reviews)

$49.99

$50 Bonus Gift card with $300 Calphalon Purchase

(36 Reviews)

$39.99

$50 Bonus Gift card with $300 Calphalon Purchase

(80 Reviews)

$39.99

$50 Bonus Gift card with $300 Calphalon Purchase

(4 Reviews)

$29.99

$50 Bonus Gift card with $300 Calphalon Purchase

(27 Reviews)

$59.99

$50 Bonus Gift card with $300 Calphalon Purchase

(13 Reviews)

$39.99

$50 Bonus Gift card with $300 Calphalon Purchase

(30 Reviews)
$179.99

Clearance!

(21 Reviews)