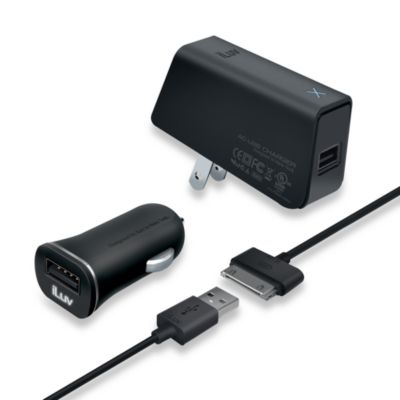 iLuv® MobiSeal™ Deluxe Combo USB Charger Kit
Simply plug your device to the included cable and then insert USB end to adapter for charging.
MobiSeal™ is a micro-USB car charger designed to fit discretely in your car's DC jack and quick-charge your device.
iLuv® logo illuminates when on.
12-volt DC input.
USB wall charger is a mini-USB adapter and a blue LED power indicator.
100-240-volt input.
Plugs into standard wall outlet.
1 year warranty.
Imported.
SKU # 40523316
Related Searches:
Similar Products:
Also check out:
$24.99 Each

Excluded from Pack and Hold

$19.99 - $39.99
(22 Reviews)

$5.99

Beyond Value

(16 Reviews)
$14.99 - $29.99




$9.99 - $19.99

Clearance!

(9 Reviews)

$34.99

Free Standard Shipping

(1 Review)