Nuby™ Squid the Squirter Bath Tub Toy
Nuby™ Squid the Squirter Bath Tub Toy
6
6
fun toy
When I took it out of the package, my kids could't wait to take a bath. My 2 year old liked it, but had a little trouble at the beginning getting the yellow handle up. After he figured it out, there was no stopping him. My 5 year old has no problems at all figuring it out and had a blast squirting the tub walls. I see plenty of water fights this summer!! I'm pretty sure I'm going to have to buy more, some for outside and some for the tub.
March 21, 2013
Great water toy
My boys really likes this toy!! There was a little bit of a learning curve (less than 1 minute) before my son figured out how to fill it with water and then squirt the water out, but after that it quickly became his favorite toy! I think this would make a great back yard toy in the summer instead of the typical water gun too! We will definitely be buying a second one so they can have water fights in the yard and the tub!
March 20, 2013
Should really be marketed for a pool toy!
My 2 year old loved the toy, however I was not so much a fan. After he figured out how to squirt the water, water was everywhere in our bathroom. I had to the explain that we needed to only squirt it at the tub wall not out of the tub! This would be a great toy for pool, or for an older child it would work for the bathtub (not an 18+ like the toy suggests). The toy itself it really cute, but if you don't want water all over your bathroom, use it only at the pool!
March 20, 2013
My children LOVE this product.
I am the mother of 3 little boys (5 months, 2 years, and 4 years of age) so I'm always looking for new products to entertain them and make every day tasks fun. The Nuby "Squid the Squirter" bath toy has been such a delight for my older boys (2 and 4), it's brightly colored and very whimsical in design so it caught their eye as soon as I got it out of the package. My 2 year old seems to be the biggest fan and it's a fairly easy toy for him to use, the handle isn't hard to pull up and down and it fills with water quite easily. He gets such a kick out of spraying the water and using his imagination to create little scenarios "squid" would be in. I would highly recommend this bath toy, especially for the ages 2-4. It's a very good quality product with a great price that you will definitely get a lot of use out of.
March 21, 2013
FUN TOY!!
My daughter loved this toy at bathtime, especially chewing on the tentacles. It was hard at first to pull the handle to fill it up but after some use, it became easy to fill up. If only I could teach her to spray it IN the bathtub! My 2 yr old nephew came over for a water fight and absolutely LOVED it. It was super easy for him to operate and join in the fun. I would def recommend this product for any water loving child. Even my 10 yr old and 13 yr old loved it during our water fight. Turns out, it actually shoots really far!!
March 20, 2013
A little difficult but fun
My four year old was so excited when he saw this bath toy. Such bright colors and fun to look at. However he had difficulty pulling the handle to fill the toy with water. To be honest it wasn't that easy for me to do either. Perhaps we just got a flawed one. Hopefully others that receive their toy have an easier time to pull it so that it can be fully enjoyed by all. Either way my 4 year old and 11 1/2 year old both love this toy. Fantastic concept.
March 18, 2013
Related Searches:
Similar Products: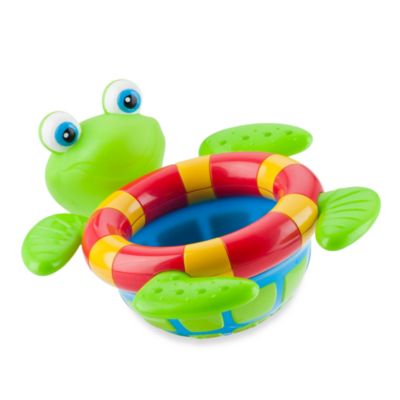 Nuby™ Tub Time Turtle
Price:
$5.99
Brand:
Nuby
Categories:
Baby & Kids > Bath & Potty > Bath Accessories
This fun and interactive bath time toy floats on the water's surface and will always stay in little arm's reach. Your child can lift the turtle to experience a fun waterfall effect.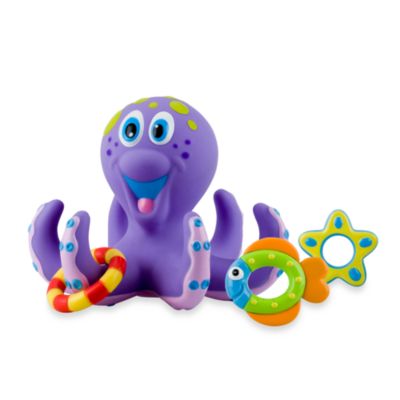 Nuby™ Octopus Bath Time Toss
Price:
$6.99
Brand:
Nuby
Categories:
Baby & Kids > Bath & Potty > Bath Accessories
Teach your child hand-eye coordination with this fun bath time toy. The Octopus Toss floats in the water and includes three rings to toss onto the octopus's legs. Stimulate your child's senses while washing them clean in the bath tub.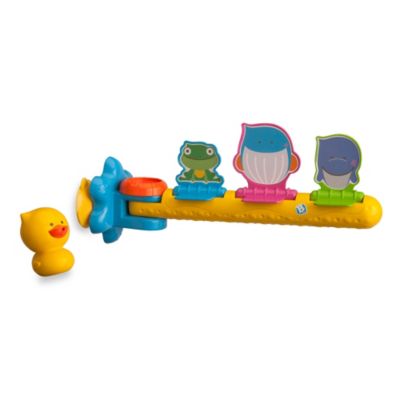 B Kids® 5-Piece Dedee Squirter Game
Price:
$9.99
Brand:
B Kids
Categories:
Baby & Kids > Infant Toys (Ages 0 - 3 Years) > Bath Toys
The Dedee Squirter Game by B Kids makes your child's tub time more exciting while enhancing hand-eye coordination and muscle development. Your little one will laugh with delight as they shoot the fun characters with water! Folds easily for storage.
Also check out:
$6.99 - $7.99
(6 Reviews)
$39.99

Free Standard Shipping

$39.99 - $49.99
(15 Reviews)

$49.99

$50 Bonus Gift card with $300 Calphalon Purchase

(166 Reviews)
16 Piece Set $149.99

Exclusively Ours

(1 Review)