Nuby™ Tub Time Turtle
Nuby™ Tub Time Turtle
9
9
Nuby Tub Time Turtle
This little guy makes makes a fun game of rinsing with its built in shower design. The turtle is brightly colored and has soft and hard plastic in the design. Our little one enjoyed using the turtle to splash and play with in the tub. The toy floats on the surface of the water and it is easy for small hands to grasp. He also really enjoyed chewing on the softer areas of the turtle. My only concern is the ability for mold to grow in the softer areas of the toy,
April 18, 2013
Great Bath Toy
I really like this bath toy a lot. It is not too big or bulky so it is easy to store and it dries quickly which is also convenient. I got this for my eighteen month old, but my four year old and my six year old also really like to play with it as well. It floats in the water and is very cute. My kids love the gentle waterfall effect. I would definitely recommend this toy.
April 15, 2013
Kids loved it
My two little ones love this turtle. The day it arrived in the mail my oldest asked if she could take a bath so she could play with it. We use the turtle not only as a toy but also to rinse out my daughters hair. She hates having water hit her face and she won't tilt her head so this work perfect. Only downfall is I need another because they fight over it every night
April 14, 2013
Bath Splashing Fun
The Tub Time Turtle is a fun alternative to your average rubber ducky. He not only floats on the water, but he allows water to sift through his middle and create a waterfall effect. This tub toy is a good size (he is bigger than he looks in the above photo) for little hands with bright colors. His body is a softer plastic for squeezing. This is a great toy for some bath splashing fun! Disclosure: I am writing this post as part of the NUBY Mommy Blogger Program. I did not receive any compensation for this post, although as part of this program I may receive items to sample or review
February 27, 2013
wonderful toy
My boys love this toy. They dont like water over their head but we can use the toy as a game and it makes it easy to wash their hair. They also like playing with it outside the tub. Well worth the money.
March 28, 2013
Super Fun Bath Time Toy!
My son loves the Nuby Bath Time Turtle! At first he wasn't so sure since it just looked like another floating toy, then he picked it up and saw the waterfall! It's now his favorite. He also likes to put things in it and float his other toys around. Nuby products have always been great quality, safe and durable! I would recommend this to any parent for their child.
March 22, 2013
A Bath Time Favorite!
We've had the Tub Time Turtle for several months and it has been one of my son's favorite bath toys. He loves holding his hand under the waterfall. He also loves to chew the fins, so it is great that it is BPA free. I recommend this toy for a fun bath time!
March 4, 2013
Fun bath toy
We have this cute little turtle and he's perfect for bath time and to be used as a water toy in our water table outside. I have a 20 month and 5 year old who love it. This turtle gets much playtime in our home
March 1, 2013
Related Searches:
Similar Products: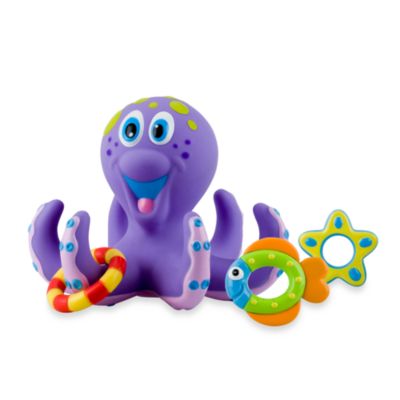 Nuby™ Octopus Bath Time Toss
Price:
$6.99
Brand:
Nuby
Categories:
Baby & Kids > Bath & Potty > Bath Accessories
Teach your child hand-eye coordination with this fun bath time toy. The Octopus Toss floats in the water and includes three rings to toss onto the octopus's legs. Stimulate your child's senses while washing them clean in the bath tub.
Also check out:
$16.99

Exclusive Color

(1 Review)

$24.99

$5 Manufacturer's Rebate Available

(25 Reviews)
$89.99 - $119.99
(36 Reviews)

$99.99 - $179.99
(1 Review)