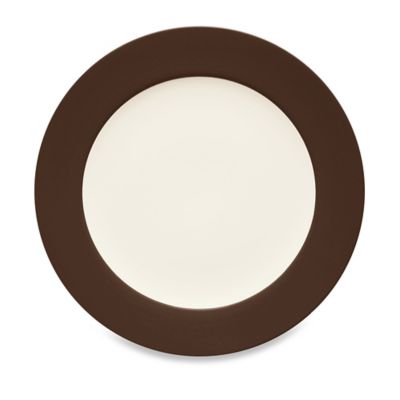 Noritake® Colorwave Rim Platter in Chocolate
Create a uniform table in one color or mix and match with other Colorwave dinnerware for a dazzling effect.
Microwave and dishwasher safe.
SKU # 16387010
Noritake® Colorwave Rim Platter in Chocolate
49
49
Noritake Colorware Rim Platter in Chocolate
I love this rim platter - it's elegant, classy, versatile, and goes perfectly with the rest of the chocolate Noritake Colorware collection.
June 23, 2014
The designs mix perfectly!
I love this set! I mixed the wide rim chocolate pattern with the narrow ridge chocolate pattern and it looks classic and fun on my table. Also, they wash wonderful!
July 23, 2012
Love my new dishes!
I received the colorwave chocolate dishes as a Christmas gift from my husband. They are beautiful and very classic and elegant! They go perfectly with our new kitchen countertop. (I think he's hoping I cook more with these beautiful dishes!). I can't wait to add more pieces.
January 3, 2013
Love the plate sizes
We just purchased the coupe and the rimmed dishes. Love the large plate with the rim. The salad plate is the perfect size for the kids' quick breakfasts. All dishes fit in the dishwasher without overlapping like our old ones.
December 30, 2012
I've Been Disappointed!
I purchased 12 place settings about a year ago, and have been disappointed at how easy it chips. I already have about 6 pieces with chips, in a household of adults only. Poor quality for the price.
November 25, 2012
Love my Chocolate Square Colorwave dishes!
I had been wanting to replace my 12 yr old dishes for a long time. They were Mikasa Garden Harvest. I was tired of all of the silverware marks left on them. I was really worried these new dishes would do the same. I saw that some people posted that they had that problem. I almost didn't buy them, but loved the color and style so much I had to give them a try. I'm so glad I did! No silverware marks on them! They are also heavy and fit better in my dishwasher! They are beautiful. I feel like I'm at a restaurant everyday when using them. Silverware marks, my thoughts..... When I got my Mikasa dishes I had also gotten new silverware. Both for wedding gifts. Maybe when the silverware is new it causes these marks. I continue to use the silverware (Stainless by Oneida) , which is not cheap silverware, with these new dishes! No silverware marks on these dishes! I have had these dishes for more than 4 months and use them everyday. Thanks Noritake for a great style of dishes. The mugs are a great size and I really like the salad plate. I use the salad plates very often! I truly love these dishes! Hears to the next 12 yrs with Noritake!!! I Hope to add more accent pieces at some point.
November 19, 2012
Great settings
These place settings are great, the color and quality is fantastic.
November 13, 2012
Simple, but elegant
This pattern is definitely very simple, but I am a big fan of it because it goes with everything else in our kitchen. We chose the square dish set in the chocolate color and are very impressed with how durable the sets are and how rich the dark brown color is. I've dropped a few of the dishes when washing them and nothing has happened to them. I registered for these sets for my bridal shower and am very glad I did!
November 12, 2012
Related Searches:
Similar Products:
Also check out:
4 Pc. Place Setting $39.99
(11 Reviews)

$21.99

Beyond Value

(29 Reviews)

$31.99

Free Standard Shipping

(36 Reviews)