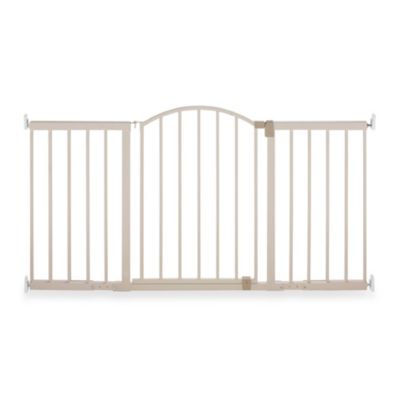 Summer® Sure & Secure® 6 Foot Metal Expansion Gate
Explore it:
This secure and stylish metal gate will fit in those larger openings between 3 1/2 feet and 6 feet wide.
The included hardware mounts securely in place, keeping children and pets safely on one side.
The convenient arched walk-through door has a one-hand operation latch that allows easy access between rooms for adults.
Fits openings 44" - 72" wide with the 4 included extensions and stands 30" tall.
This stylish metal security gate can be used to keep pets confined, too.
SKU # 18270757
Related Searches:
Similar Products:
Also check out:
$79.99

Free Standard Shipping

(2 Reviews)

$59.99

Free Standard Shipping

(1 Review)

$59.99

Free Standard Shipping

(1 Review)

$69.99

Free Standard Shipping

(3 Reviews)

$69.99

Free Standard Shipping

$7.99

Free Standard Shipping

$29.99

Exclusively Ours

(2 Reviews)
$17.99

Exclusively Ours

(8 Reviews)

$14.99

Exclusively Ours

(51 Reviews)

$2.49

Free Standard Shipping

(2 Reviews)

$119.99

Free Standard Shipping

(1 Review)

$29.99 - $39.99
(9 Reviews)

$12.99

Exclusively Ours

(14 Reviews)

$3.49

Free Standard Shipping

$11.99

Free Standard Shipping

(1 Review)

$5.49

Free Standard Shipping

(1 Review)

$3.99

Free Standard Shipping

$3.99 - $9.99

Free Standard Shipping

(3 Reviews)