Hyper Pet™ K9 Kannon™
Allows you to play with your dog without the hassle of touching drool-drenched and dirt-covered balls
Easy-to-use
Equipped with extra ball storage in case of a faulty aim or an irretrievable ball for non-stop outdoor fun
Includes 1 Hyper Pet™ Ball
Plastic construction
Imported
SKU # 41029503
Hyper Pet™ K9 Kannon™
21
22
AWESOME!!!!!!!!
Had shoulder surgery that left some impairment. My dog loves to play ball so when I ran across this gadget decided that she was worth the $20 even if it only lasted a few weeks. Have had it several months now and it still works like a charm. I can launch it way farther than I can throw it with no aches left to deal with. She has learned to go long and we have a blast (no pun intended) with it. I highly recommend this if your baby loves to fetch the ball. It's the best money I have spent on dog toys.
September 27, 2014
My Retriever LOVES this toy!
I bought this K9 Kannon from a local store about a month ago and my retriever loves it! we play almost everyday and it hasn't broke yet (well worth $20). I love not getting my hands slimy so it is a good toy for me too. Regular Tennis Balls and the launcher will go pretty far, great exercise for the doggy!
September 23, 2014
toy
My dog loves this gun. I love this gun. Only rated it average because it does NOT shoot very far. NO where near 100' but is a lot of fun.
August 25, 2014
My hyper pet loves the K-9 cannon!
My Australian Shepherd who mostly likes playing frisbee actually loves this new toy. We had to find something else for him, as he was getting so he could hardly get up in the morning after playing frisbee the day before, since he had to jump so much. With this he seems to stay on the ground and not jump and he is getting his exercise and not having any stifness issues like he did with the frisbee. It also helps me so I don't get a sore shoulder from throwing the ball over & over. I would highly recommend this product.
July 20, 2014
LOVE IT! So Does our Dog!
We got the k-9 Kannon for our lab and he LOVES it. He cannot wait for the sound of that ball flying out of the barrel. When he wants us to play ball with him, which is ALWAYS, he will walk over to the Kannon, stare at it and whine until we pick it up and play! It also got the children more interested in playing/exercising the dog. The trigger does get stuck every once in a while, but we just fiddle with it a little and it fixes itself. We are going to buy a couple of backup Kannons because our dog is hooked!
June 3, 2014
k9 kannon
expected more from this... Will only shoot about 10yds and just not worth the money
February 20, 2014
Disappointed
Purchased the K9 Kannon 12/24/2013...used it that afternoon four times, dog loved it :) Used it three times today 12/25/2013, trigger broke. Needless to say we're very disappointed with the product. The dog is sad :( Unless they change the design, I would not recommend this product.
December 25, 2013
Trash
I can not believe that Bed ,Bath and Beyond would have their name linked to this piece of trash. I can throw a ball further by hand than this thing does and I an in my late 50's and female. Do not waste your time or money on this product
December 25, 2013
Related Searches:
Similar Products: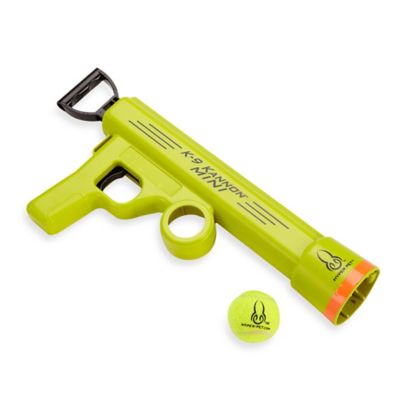 Hyper Pet™ K9 Kannon™ Mini Tennis Ball Launcher
Price:
$15.99
Brand:
Hyper Pet
Categories:
Play an invigorating and fun-filled game of fetch with your dog with this compact and easy-to-use tennis ball launcher. Shoots balls up to 75', allows hands-free pickup and comes with convenient extra ball storage.
Also check out:
$19.99 Each

$9.99 Each

Clearance!

(3 Reviews)

$10.99

Free Standard Shipping

(103 Reviews)