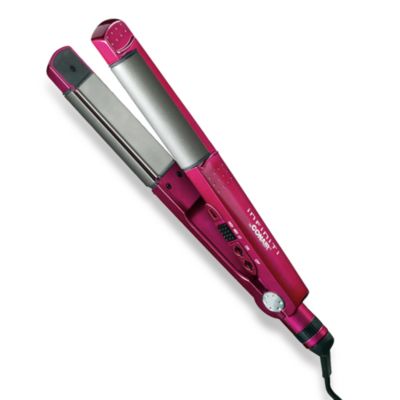 Conair™ Infiniti You Style Multi-Functional Hair Tool
The nano tourmaline ceramic™ technology and 30-second instant heat make creating curls, waves and body fast and easy
Tool also has high-heat levels, uniform heat recovery and auto-off
Measures 11" L x 2" W
2-year manufacturer's warranty
Imported
Model CS54
SKU # 16504068
Conair™ Infiniti You Style Multi-Functional Hair Tool
5
5
no as good as old one but still works well
Unfortunately, my old curling iron/straight iron combo broke and they do not sell them anymore. So I bought this. It works really well if you want to straighten your hair and curl it under or flip it up but if you want to use it as a full curling iron I would not recommend it. It does not make my hair frizzy like the other reviews mention.
August 10, 2011
iron/curler combo not as good as old one
I have always had a curler/iron combo. Unfortunately my old one broke and I could not find any being sold so I bought this. This works great if you straight iron your hair and curl in under or flip it up but I would not recommend it as a real curling iron.
August 10, 2011
Very bad.
i got this around Christmas, i thought it wouldbe good. it's horrible ! i have to straighten my whole head, than do it again, than i have to do it one more time. so i have to straighten my whole head 3 times so i can get my hair straight! do not get this!
August 3, 2011
Not Good
I bought this product last year thinking it would be good. It was good for the first week. Now it sucks, it barely straightens my hair after 5 minutes on one little strand of hair. And the curling part of the machine doesn't even curl you hair, it just makes it frizzy. Don't waste your money on this piece of junk, save up for a good straightner that works.
May 22, 2011
Doesn't do what I want it to do
I bought this straightener because of it's supposed curling abilities. I don't curl my hair to the point of bouncing curls. I just like a little curl on the end. This straightener wouldn't do that, but it easily does bouncing curls. So I'll be returning it and buying something that gives me my curl at the end like I want.
May 17, 2011
Related Searches:
Similar Products:
Also check out:
$19.99

$9.99

Clearance!

(8 Reviews)

$69.99 Each

Excluded from Pack and Hold

(2 Reviews)

$19.99

$9.99

Clearance!

(1 Review)
$11.99

Free Standard Shipping

(24 Reviews)

$14.99

$9.99

Clearance!

(17 Reviews)

$5.99

$4.19

Clearance!

(9 Reviews)

$19.99

$10.00

Clearance!

(14 Reviews)

$14.99

$9.99

Clearance!

(9 Reviews)

$12.99

Beyond Value

(18 Reviews)

$11.99

Free Standard Shipping

(25 Reviews)