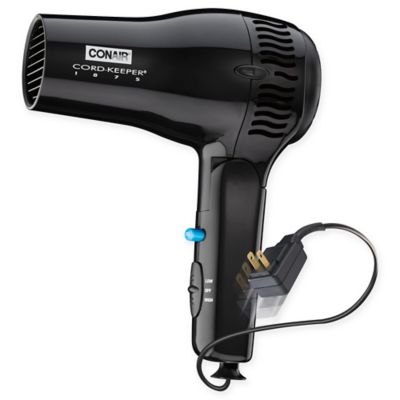 Conair® Cord-Keeper® Ion Shine™ Hair Dryer
Ion Shine™ benefit reduces static electricity that causes flyaway frizzies and dulls hair
Features a retractable cord that works with the touch of a button and a fold-down handle
It also has a full 1875 watts of power and two heat/speed settings along with a cool shot button to help you lock in the style
2-year manufacturer's warranty
UL listed
Model 169IX
SKU # 11888518
Conair® Cord-Keeper® Ion Shine™ Hair Dryer
3
3
changed from 4 to 3 stars found better dryer
I wrote the 1st review on this & gave it 4 stars...that is until I purchased the One N Only Argan Heat hair dryer from BB&B, which is $60 minus 20% coupon, and tho it is more money than this Conair Cord Keeper Ion Shine, it is still a reasonable price for me, and it is almost as light weight as the Conair Cordkeeper, but much much more powerful and makes my long thick frizzy wavy hair much straighter, shinier, tamer, drying more quickly, and as long as my hair is dyed and conditioned, I could even get away with not having to use a straightening iron, unless I want a really sleek look. I ordered it bec I read that eleven people each gave it about 5 stars on another website, but I ordered it thru BB&B bec they are reliable in giving refunds and exhanges if I have product problems. I still think the Conair Cordkeeper has its place in a home, either as an extra/just-in-case, for travel (unless you prefer to get one of the newer tiny travel kinds available which dry even faster but do not leave hair as shiny as this), for people who do not need the power that the One N Only Argan Heat supplies, or for people who cannot hold anything more than a light or small hair dryer.
December 8, 2011
bad choice
Noise is not just excessive, but louder than any hair dryer I have ever owned. Would have returned, but had to have a hair dryer immediately. Will definitely be replacing shortly.
September 14, 2011
best beauty for the low bucks
I am 49 and I have long thick hair which easily frizzes...my hair used to be straight but is now getting wavy (curly?) as I age...Over the past several years I have been using Conair's Ion Shine hair dryers...I had the Cord-Keeper when it first came out in the blue color about 2 years ago, and the only complaint I have with it which leads me to give it a 4 star rather than 5 star is that the retractable function slowed down from working as quickly/well as it did at first, maybe after 6mos or a year (yet my mother's works well now for about 2 years, which may be due to her retracting it more slowly than I do, yet I did read reviews elsewhere whereby other people complained about the retractable function), but then it started working better again at times...However, it did not effect the performance of the dryer which always worked well, especially for such a cheap price...When I recently realized that I had saved the box with BB&B's sticker price tag on it, even tho I could not find the receipt, I returned it with total ease at the store I purchased it from, due to the retractable function not working at all for about 6 mos or more, and tho they would have given me a refund, I chose to exchange it for this new purple color cord-keeper which looks and works exactly like the older blue one...Since it is cheap enuf, I also purchased a second one to have just in case...I find that it dries my hair fast and makes it relatively straight and shiney...If it comes out too thick, since I like a flatter look, I just use a straightening iron after...Sometimes I think I should be buying an expensive hair dryer bec it seems like people talk about great results and I wonder if my hair can come out even better, but the only one that seems, by description, to be light and comfortable enuf to use like this cord-keeper would be the T3 varieties I read about (in terms of lightness), and not only are they much more expensive (even on Amazon at the very cheapest they are 4 times the price, and at better know places they are 10 times the price), but some of the customer reviews about the dryers overheating and the heat not going on again until after a few minutes, rarely if ever happened with my blue cord-keeper, and I would rather not have to deal with worrying if a place will honor my warranty after spending a lot of money...I did not see the T3 at my local BBB store nor on BBB website, tho I did once see it at a bigger BBB further from my home, and I would consider it if I ever get over there again, bec BBB is reliable and easy to deal with, with hardly any questions asked, like they truly trust the customer and want you to be happy...Anyway I am sticking to my cheapie for now, and I will try to be mindful by slowly retracting the cord...
April 28, 2011
Related Searches:
Similar Products: