Fisher-Price® Ocean Wonders™ Soothe & Glow Seahorse™ in Pink
After five minutes, the music fades, the lights dim and your child will be fast asleep
Includes eight lullabies and power/volume control
Requires three AA batteries (included)
For all ages
Imported
SKU # 40836973
Fisher-Price® Ocean Wonders™ Soothe & Glow Seahorse™ in Pink
93
93
Great... If it worked properly
We revived this as a shower gift and our 2 month old girl loves it and it really does work to soothe her and/or put her to sleep. However, it only plays music for about 5 seconds, not 5 minutes as advertised. I wish it played for 5 minutes, then I would give it 5 stars!
September 2, 2014
his favorite night night toy
My son got this from Santa last year and he loves this this g I hear it throughout the night a d he eve. Has to take it with him when we travel. Unfortunatly its not very good on the batteries. I have to replace e them about once a month on average. And ever since his 24 hour stomach bug and I had to wash horsey(what he calls it) though it says washable he shrunk and so I can get the battery pack back in with some effort however he wont close so ever morning I haven to put him back together from where someone has messed with all the buttons and left the battery pack hidden in his bed... other than is eating batteries like crazy and the shrinkage he has held up very well and he keeps my son happy
September 1, 2014
blue sea horse :(
USUALLY love all fisher price...since my kids were small. First grandson all excited to get this toy. Threw away ALL packaging gave it to him and it doesn't work...it plays MAYBE 5 seconds....i NEVER write bad reviews...just try it out before you purchase so you dont have to have just another stuffed animal. Otherwise fisher price is fabulous....:(
August 6, 2014
Perfect for Newborns
My husband and I got this Seahorse as a gift at our baby shower and we love it for our daughter! She is 3 months old now and she has been sleeping through the night since about 2 months old - around the time we introduced this toy to the side of her crib. She would sleep for about 6-7 hours at night and we owe it all to this amazing toy. Just press it whenever she needs it and she drifts back to sleep. Do yourself a favor and buy this for your child or someone you know that is either expecting or have young children of their own. It's a true MUST HAVE for all parents.
August 5, 2014
Still on the fence
I love this play on the "glow worm" I had as a child, many many many years ago, lol. My now 4mth old is still not engaged by this toy, at all. The music is not to loud, and all around the only thing that I would complain about is re-fastening the velcro.
June 10, 2014
My son loves this
We received 2 of these at my baby shower and I am so happy that we did. My son loves it and we have one at home and one at my parents, who watch him during the day. It is easy for him to hold and keeps his interest. I like that it has the glowing belly that works as a little night light until he falls asleep. He loves the music and ocean sounds and lights up whenever he sees and hears it.
March 11, 2014
Best Purchase Ever
I can't say enough about this seahorse! When I purchased it for my son to help him sleep, I had no idea out of all of the endless toys he has, this would be his favorite product! Since he was an infant, he has slept with this seahorse. He would always gaze at the light and wrap his tiny arm around the seahorse. We would always have to press it for him almost every five minutes, but other than that, this toy is worth every penny. My son is now 8 months old, and although he has other glow toys that play music, this is his favorite. He now presses it himself to turn it on.
February 14, 2014
My son loved this toy
This was a great toy for my son until a few weeks ago. I changed the batteries in it and now it will only play about 5 maybe 10 seconds of the song before it dims and turns off. Makes me sad that this is broken because he really loved this toy.
February 10, 2014
Related Searches:
Similar Products: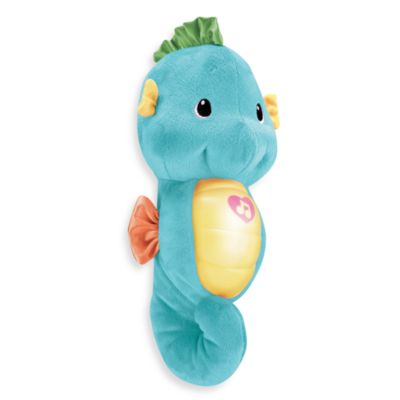 Fisher-Price® Ocean Wonders™ Soothe & Glow Seahorse™ in Blue
Price:
$14.99
Brand:
Fisher Price
Categories:
Baby & Kids > Infant Toys (Ages 0 - 3 Years) > Activity Toys
Help your precious little one to fall asleep with the Ocean Wonders™ Soothe & Glow Seahorse™. With a little squeeze, this seahorse glows in the dark and plays soft music, lullabies and soothing sounds of the ocean.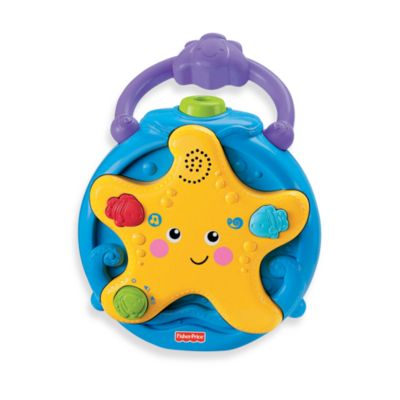 Fisher-Price® Ocean Wonders™ Take-Along Projector Soother
Price:
$19.99
Brand:
Fisher Price
Categories:
Baby & Kids > Nursery Decor > Baby Room Decor
Soothe baby with classical lullabies or soft ocean sounds while offering a scenic light show that changes as baby grows with this soother, which has a base that looks like a starfish.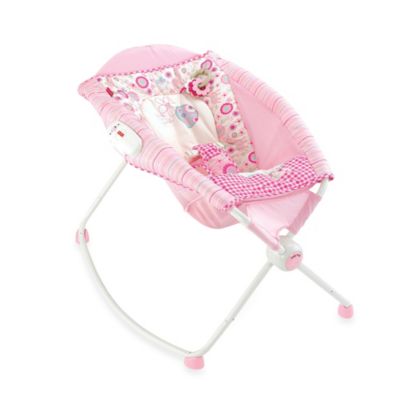 Fisher-Price® Newborn Rock 'n Play™ Sleeper in Pink
Price:
$59.99
Brand:
Fisher Price
Categories:
Baby & Kids > Gear & Travel > Activity
Rock, soothe, nap or play. The Newborn Rock 'n Play Sleeper is a unique portable sleep seat for your newborn, featuring a wonderful rocking action and an inclined seat for babies who need their heads elevated. Model BHV56.