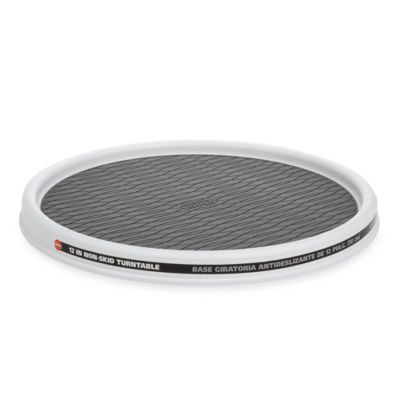 Copco 12-Inch Non-Skid Turntable
Copco 12-Inch Non-Skid Turntable
13
14
Copco 12-Inch Non-Skid Turntable
This product was everything I expected. It was sturdy and turns easily.
October 21, 2014
Great Product
I use these for cleaning supplies. Great to have multiple cleaning supplies on a shelf - easy to turn to grab things without knocking the rest over. Also use for spices in a cabinet.
September 9, 2014
Great product for anywhere in your house
I absolutely love these non skid turntables. Keeps everything in its place and yet is so convenient when looking for something. Great for can goods in your pantry, small things in your fridge, and also cleaning products / lotions, etc. under your bathroom sinks. Just love these things!
September 8, 2014
Nice addition to my kitchen
I am keeping this on my countertop to organize the clutter and make things more accessible. It looks great and things don't slide around on it. Can't beat it for the price.
July 29, 2014
Turntable
It is a great item to put into the refrigerator to make it easier to locate items in the back. So much better. It fits where I needed it to fit and works great.
April 14, 2014
Perfect
I bought this to use under the bathroom sink to organize my partner's toiletry items. Thank god for this. Normally it's all just thrown under the sink. Not anymore. He must love it too!
February 26, 2014
Perfect for medicines
I bought this for my medicine cabinet and it works wonderfully. Also got 2 of the 9" for spices. These are well made and very smooth turning. Should have bought them sooner!
February 3, 2014
Very Impressive
I ordered the ten inch from the store because they didn't have any in stock, when it came, I realized it was a little to wide for my cabinet, so I returned it and got the next size down. I am very satisfied with it. It's a little small, I wish they had a size in between the seven inch and the ten inch.
November 20, 2013
Related Searches:
Similar Products: