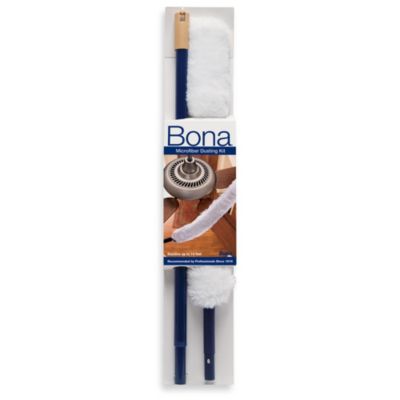 Microfiber Extendable Bendable Dusting System
Constructed of starfiber microfiber.
Super-flexible bendable dust wand with telescoping handle, dusting mitt and dusting cloth.
Machine washable.
SKU # 14664246
Microfiber Extendable Bendable Dusting System
2
3
Don't be fooled...it doesn't reach 14 feet...
I don't know how Bona thinks that this reaches 14 feet, unless they mean including your body length, with your arm extended, while standing on a ladder!! I bought this to dust the beams in my high ceiling and was disappointed to find it only measures 6 feet in length (and you have to fold the top down to use it on a flat surface!) At least BB&B did not advertise the claim of 14 feet, but I read the front of the package by zooming in on the picture, and it says "Reaches up to 14 Feet." It's going back to the store tomorrow!
October 6, 2014
Best Duster Ever
This is the absolute best dusting system for general cleaning ever. Cleans heavily textured walls, ceiling fans, blinds, verticals and flat surfaces. I'm ordering several for friends and family.
February 14, 2011
Related Searches:
Similar Products:
Also check out:
$4.99

Exclusively Ours

(37 Reviews)

$9.99

Exclusively Ours

(1 Review)
$18.99

Free Standard Shipping

(7 Reviews)

$9.99

Free Standard Shipping

Exclusively Ours

(163 Reviews)

$19.99 - $24.99

Exclusively Ours

(9 Reviews)
$129.99 - $169.99
(2 Reviews)