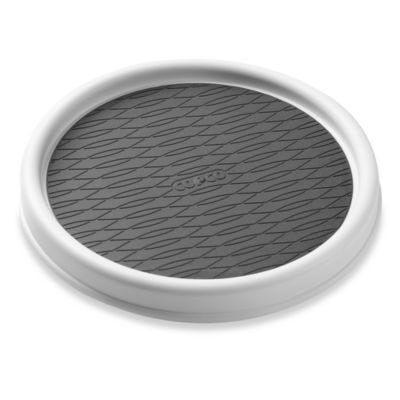 Copco Non-Skid 9-Inch Turntable
Measures 9" in diameter.
Wipe clean.
SKU # 10932300
Copco Non-Skid 9-Inch Turntable
11
11
Perfect size! Love it!
My counters are not very deep so this is the perfect size to house some oils, sprays, spices, etc. on my counter by the stove for easy access. This fits perfectly and holds just what I need. I love it's sturdiness and the pad is easy to clean. The turntable turns easily and stays in place on the counter without slipping or sliding. I love it and recommend it highly!
September 8, 2014
Excellent for organizing
Bought 2 of these for the cabinets over stove where I keep spices. Fits inside my cabinets perfectly and all my spices are easily accessible. They are not fancy but smooth and well made. Great price and gets the job done! Always measure the inside depth of area of where these will be used. I have read some reviews where some folk's cabinets weren't deep enough to hold these. Should have bought these a lot sooner! Also bought the 12" for cabinet with medicines!
February 3, 2014
Good Quality
The turntable turns easily and smoothly even when loaded.
July 17, 2013
Perfect!
This turntable is exactly what I needed. It is the perfect size to use in a corner cupboard for some small items. It turns easily.
July 5, 2013
Just Right Purchase
The non-skid turntables fit just right in my cabinets and really help me find things easily. They're easy to clean and look just beautiful!
July 4, 2013
real good
i really liked this turn table it was the right size.
December 31, 2012
Love It - Came Back For Another
I saw an idea online where someone was using a turntable in their fridge. I have so many condiment jars and things that I could never find anything. This fits perfectly and turns smoothly - I love it.
December 16, 2012
Great Product-sturdy!
Was looking for these. Found them at Bed Bath and Beyond...thank goodness. Great for spices, medicines, etc!
March 21, 2012
Related Searches:
Similar Products:
Also check out:
$11.99 - $16.99
(7 Reviews)