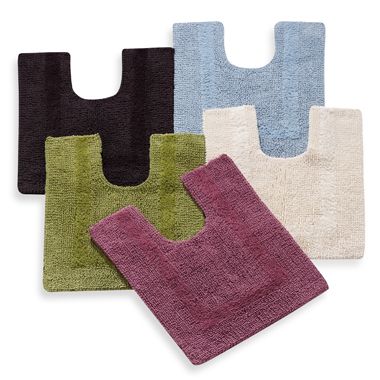 Wamsutta® Reversible Contour Bath Rug in Colors
Choose from a variety of great color options.
Reversible.
100% cotton.
Machine washable.
Imported.
Wamsutta® Reversible Contour Bath Rug in Colors
8
9
Poor fit
I bought 3 of the Wamsutta reversible rugs for my bathroom in different sizes. I bought the contour rug for in front of the toilet and had to return it because it doesn't fit. The opening is too narrow to go around the base. We have a very typical American Standard toilet - if it doesn't fit ours I'm not sure what it was designed for. I bought the smallest rectangular shape rug for the spot instead and it is perfect.
September 1, 2014
Not for square bases :-(
This was the third of three rugs I purchased as replacements for leaf shaped chenille rugs that have finally out lived their everyday use. I was a little bummed about the contour rug; It was smaller than I expected overall BUT the really sad part was that the contour is designed for a smaller round base. My toilet has a large square base. I kept it because one it matches the other rugs, two I had removed the tags and three I hate to return stuff. It will probably end up in my guest bath where it will fit and get a rectangular of the same line. Other than that... These are so soft and luxurious that I could stand on them all day and just wiggle my toes! Low lint/shed (a risk with 100% cotton). The reversible aspect is amazing; only problem is which side to pick!
August 4, 2014
quality fair
This product had piles of lint in the dryer when I washed it. Feels soft, but not like cotton.
July 30, 2014
Great mats
These mats are the best! Both sides are useable. They go into the washer and DRYER. None of that awful rubber or foam backing that comes off after the first few washings. Price is right! Color choice extensive. What more could you want.
January 20, 2014
Wrong Contour
Does not fit around toilet. Not sure what the manufacturer used as a profile for this rug but it is way to small to fit around a toilet. They need to cut the contour about six inches wider.
December 19, 2013
This product has great features.
This rug is super soft. I purchased this rug a month after I purchased the rectangular bath rug and had no problems with the colors matching. They dry nicely when they get wet from the shower and wash great in the washing machine and dryer.
December 18, 2013
Nice Rug but Poor Fit
As the previous reviewer mentioned, the rug is lovely, and the color selection is great, but it doesn't fit around the base of the toilet, rides more than an inch up the sides of the toilet base.
November 24, 2013
Great Rug, Minor Problem
This rug was just what I was looking for. It is a lovely color, thick, soft, and reversible. No rubber backing to crack and disintegrate in the dryer. The only problem for me is that the contour cut-out is a bit too small for my toilet base. I can still get it up around it though, and because I had a hard time finding one in the right color, I consider this a minor inconvenience.
November 6, 2013
Related Searches:
Similar Products: