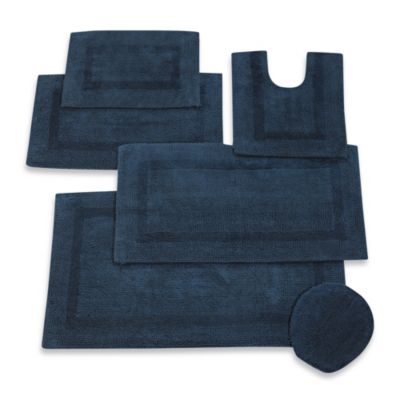 Wamsutta Reversible Contour Bath Rug in Midnight
Choose from a variety of great color options.
Reversible.
100% cotton.
Machine washable.
Imported.
SKU # 41235713
Wamsutta® Reversible Contour Bath Rug in Colors
20
22
I really like how I can wash them as as needed without worrying they will fall apart. Very durable and soft.
November 4, 2014
Fantastic rug!!!
I love that this is cotton, not chemicals and is reversible, not coated with that rubber chemicals on the back!!! It is the most beautiful color and goes so well with my half bath countertop and furniture!!! Wamsutta is a leader in rugs and I will continue to buy them as long as they keep these in cotton to buy!!!
November 4, 2014
Fantastaic Rug
I had bought a Wamsutta rug in Texas and it has worn so well and kept it's color and fee thru the years so I was hoping I could find more when I redid my bat in my new house. I found them at Bed Bath and Beyond and they are reasonable!!! They are cotton, which I want for health and not chemicals in my furnishings, and they have the most beautiful colors. One is just perfect to go in my small half bath. It has the feel of luxury and is reversible......another plus..no rubber chemicals on the back!!! I LUV IT!!!!!! I will buy more as I redo the rest of the baths and around my (older) new home!!! Thanks to Wamsutta for keeping a tried and true old idea!!!!!!!!!
November 4, 2014
Wamsutta Reversible Contour Bath Rug
Love the reversible bath rugs. They are hard to find these days. This color, Tea Rose, is the closest to a color I bought years ago that was more peach. This color is also very hard to find and I don't know why. Personally, I find the popular dark tones to be very depressing. I wish the marketing community would take a look at some of these past brighter colors and bring them back, and I'm not talking about the electric colors from the 60's which I also see a lot of and do not like. Other than this color issue with me, the quality of this product is very good and I was very glad to find it.
November 4, 2014
a great product
Love the rugs. They are so soft, and the color is gorgeous
November 3, 2014
Very Plush
The darker blue matches a Persian rug we got from Pottery Barn very well; equivalent to their Porcelain Blue. These rugs are plush, easy to shake out and wash. I love the reversible design b/c I accidentally splashed a little toilet cleaner on one side, but I can just flip it and it's all good! Now I make sure the rugs are very far from where I am cleaning! I also bought these in Vanilla for another bathroom that needed a little freshening up.
October 21, 2014
Perfect fit for my small toilet
Some reviewers found it was too small to fit around their toilet's base but it fit mine just right. Love the fact that it doesn't have that non-slip latex backing that always comes apart in the wash. I can even wash this on the sanitize cycle of the washer. If you don't want it to slip at all just put a separate rug gripper underneath, cut to size.
September 29, 2014
Exactly what I was looking for
I love this product. The contour bath rug is reversible and this was very important to me as being reversible I can wash it! The material is soft and as I said I am very happy with it. I am glad that I continued to look on-line for a reversible contour and found that it was not available in the store but they ordered it for me and shipping was free.
September 19, 2014
Related Searches:
Similar Products: