FoodSaver® 11-Inch Expandable Pleated Heat-Seal Rolls (2-Roll Pack)
Accommodates large roasts, whole turkeys, and even casserole dishes with no mess and no fuss
Measures 11" x 16' each
Imported
SKU # 41262993
FoodSaver® 11-Inch Expandable Pleated Heat-Seal Rolls (2-Roll Pack)
46
46
perfect for turkeys
I harvested eight turkeys this year. The 10 lb Bourbon Reds fit effortlessly into the expanding bags. The biggest Broad had to be boned out to fit, but I managed to squeeze a 24 lb Bronze whole into a bag. Thanksgiving is covered.
October 21, 2014
Love the expandable bags!
These bags can be used to seal LOTS of items. I use them when I buy family sized trays of boneless chicken breasts. I put two trays in the bag and seal it. I use the chicken to make jerky treats for my dog and the dogs of family, friends and neighbors. When I'm ready to use the chicken, I open the bag, but save it to dispose of the smelly empty trays and other odor causing items. Using it that way not only keeps the chicken fresh, but also keeps my rubbish smelling fresh no matter the temperature, and keeps flies and maggots away! Yippee! I love the fact that I can now vacuum seal large items. I use it for roast turkeys, chickens and beef, as well. , The only draw back is the wasted ends. You need to over cut the size by at least 5". I hate wasting that much. But, overall, it's worth it!
August 22, 2014
Storing dry goods just got simple!
For a long time, I've been storing my large grain and flour sacks in the deep freezer, taking up over half of the bottom storage space. I love the deep pleats, and am able to seal 5 lbs of flour at a time. I've also used the pleated bags for rice, but since there are so many tiny spaces between rice grains, it's more effective to use the mason jars. Whole chickens, roasts and even a gallon of chili have all worked beautifully. I see people have a bit of trouble with the pleats, but they fold inward naturally and I"ve not had one sealing mishap with them.
August 13, 2014
This product is tough and durable
I really like all the Food Saver products. It is a great way to preserve your food and its easy to use as well.
August 6, 2014
Great bags
Best thing since PB&J and sliced bread Used for freezing all wild game and fish, keeps food fresh
June 11, 2014
Great Bags And Sealer
i love your bags keeps everything fresh and other food smells and taste off my foods.The sealer is simple to use also. I would recommend your products to my friends and family.
June 5, 2014
Glad to have larger options
Now that larger bags are available, I prepare several pie crusts, seal them with these expandable Bags and freeze them. I am prepared to whip up a pie whenever the mood hits us taking a lot less time. Of course these homemade crusts are much better than the purchased ones.
February 26, 2014
Go for the orginial
Ordered replacement bags our 'saver' . I did look at other cheaper brands of bags but they were thinner. Don't save $ and lose $$$ worth of food
February 14, 2014
Related Searches:
Similar Products:
FoodSaver® 11-Inch x 16-Inch 2-Pack Vacuum Packaging Rolls
Price:
$19.99
Brand:
FoodSaver
Use these vacuum packaging FoodSaver® bags with your FoodSaver® appliance to prevent freezer burn, lock out air and moisture and seal in freshness. Unique design maximizes air removal and preserves flavor.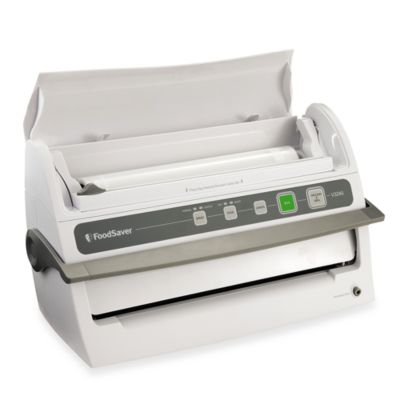 FoodSaver® V3240 Vacuum Sealing System
Price:
$129.99
Brand:
FoodSaver
Categories:
Kitchen > Specialty Small Appliances > Specialty
The FoodSaver® V3240 Vacuum Sealing System uses Liquid Block™ Heat-Seal Barrier Bags and Expandable Pleated Heat-Seal Rolls to vacuum seal a wide variety of foods to keep food fresh up to five times longer.