Paws Life™ Bench Style Quilted Car Seat Cover
Durable one-piece construction with tear-resistant quilted seat and plain back design.
Fully covers your backseat.
Helps protect your car's upholstery from digging claws, debris and whatever Fido brings with him every time he jumps in and goes with you for a ride.
Elastic perimeter edging keeps seats covered and protected.
Stabilizers tuck between back and bottom cushions to hold cover securely in place.
Lightly padded to provide additional comfort for your pet.
Convenient seat belt slits.
Easy to install.
Fits most cars and SUVs.
Dimensions: 47" L x 56" W.
100% polyester.
Machine washable.
Imported.
Paws Life™ Bench Style Quilted Car Seat Cover
20
21
Doggie Car Seat Cover
My son and I have a Great Dane - he lives with my son and spends his days with me. That means that he travels back and forth daily in the back seat of my Camry. In the beginning my son and I each had one car seat cover. Danes shed and are messy so I decided we each needed two. That way we each always have a clean seat cover. The seat covers are all the same brand from this same company purchased through Bed, Bath & Beyond. I highly recommend them.
September 20, 2014
Great! It actually works.it stays in place on the seat and it is protecting my car seats from wear plus it looks nice.
September 12, 2014
works well
Sturdy,fits good,stays in place,seems to wear very well
July 30, 2014
Fits great, sounds terrible.
This fits my seats better than most other covers I've used. Easy to install & uninstall. Only drawback is with the windows open this cover sounds like a loose trash bag fluttering in the wind. The sound is only an issue if you drive with open windows.
April 28, 2014
Saved me from a smelly situation!
I've had this cover since summer (I think) &, because I have an elderly dog, I haven't needed for anything other than keeping the hair off of my seats until a couple days ago. About halfway into the 40 minute drive home after surgery, my heavily drugged dog had an accident...& then another one. The mess sat there for about 6 hours before I was finally able to deal with it AND NONE OF IT GOT ON MY SEATS!!! When I lifted the cover up I was shocked & relieved to see that the other side was completely dry. Even better, cleaning it was a breeze. All I had to do was run it under hot water & gently use a scrub brush. Less than 3 minutes later & it's in the washer for a normal cleaning & it's as good as new. Obviously, I care more about my dog than my car seats & I certainly wasn't mad at him, but when you're stressed about your sick best friend, having something be this easy is a HUGE relief! A couple things to consider before buying: * I know the measurements are on the website, but I'm going assume there are other people out there as lazy as me who won't bother to measure their backseats, so let me just say this is definitely for smaller cars. I have a Kia Rio & it fits my backseat perfectly. *The seatbelt buckle slits are much wider than they look in the pictures. Mine are about 9" wide. If you take your dog to the beach or they get muddy frequently, I think there is the potential for dirt to get through those slits, but it would be very minor. *To attach the bottom of the cover to the seat, you slide an elastic loop under the seat. As I said before I have an elderly dog, so there is a lot of lifting & sliding to get him settled. Sometimes the bottom gets loose & a couple times one side came off. It could just be operator error, but I think it's the design & it's a pain to try to attach it again with a 80lb dog sitting on it! Although I think this is a great seat cover (especially for the price) & it fits my needs perfectly, I would be hesitant to recommend this product to people that lead very active (dirty) lifestyles with their dogs. However, if you have an elderly dog or don't get your dog seriously dirty, I think this is worth a shot!
April 11, 2014
We were under the impression that this would fit in our truck. It does not. Otherwise it would be a super product.
March 3, 2014
Pet Seat Cover
This seat cover has been a life saver. It washes well and my boy doesn't have any trouble with sliding off of it as he has had with others. This prompted me to go ahead and buy a second seat cover. Would definitely recommend this product.
February 17, 2014
Nice and Functional
This car seat cover works well (as long as my hyper bulldog doesn't get too crazy in the back seat) and stays in place PRETTY well... We have a 2011 Altima... It isn't perfect, but it is functional.
October 23, 2013
Related Searches:
Similar Products: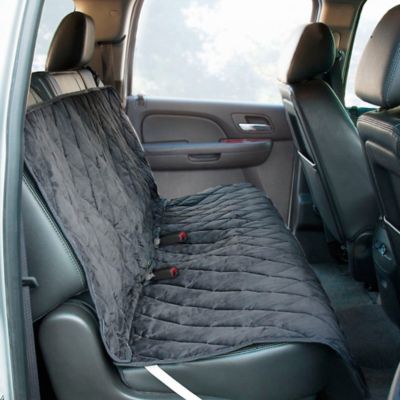 Bench Style Deluxe Quilted Micro Suede Car Seat Protector
Price:
$29.99
Categories:
More > Pet Care > Outdoor Pet Living
This bench style car seat cover is fitted with a quilted micro suede top to provide comfort, warmth and security for any size dog. Underneath the soft brushed suede is a rugged, rip-stop denier with a waterproof coating to protect your car's upholstery.
Hammock Style Deluxe Quilted Micro Suede Car Seat Protector
Price:
$39.99
Categories:
More > Pet Care > Outdoor Pet Living
This hammock style car seat cover has a padded micro suede top and a rugged, rip-stop denier bottom with a waterproof coating to help protect your car's interior and upholstery from scratches, mud and anything else your pet can bring in your vehicle.
Also check out:
$39.99 - $49.99

Exclusively Ours

(30 Reviews)
$79.99 - $99.99
(89 Reviews)

$19.99 - $59.99
(59 Reviews)

$19.99 - $32.99
(2 Reviews)

$6.99

$50 Bonus Gift card with $300 Calphalon Purchase

(8 Reviews)