Oggi™ Creme Brulee Torch Set
You can brown Baked Alaska and other meringues, or heat and melt cheese for casseroles and lasagna
2.2 ounce Butane Torch (Butane not included sold separately)
Childproof safety lock
Adjustment dial to control flame intensity
Continuous flame feature
Large base (stands upright on its own
Comfortable grip
Includes 4 fluted oval shaped stoneware dishes
Recipes included
SKU # 12371578
Oggi™ Creme Brulee Torch Set
15
15
"Blowtorch" is just a fancy lighter
The ramekins are pretty nice. They're just very small (just under 5 inches lengthwise and an inch tall) and do not look like the ramekins in the picture. I do not recommend this set because it doesn't come with butane and because the blowtorch's flame is pretty much like a lighter. Trying to use it to burn sugar on creme brulee is next to useless and the air starts to smell like gas if you keep the flame on for a long time.
August 29, 2014
Torch Too Small
Unfortunately, this product is sold withOUT the Butane cylinders and Customer Service said that this size Torch could only burn about 2 Brulees without running out of one cylinder of Butane -- I am returning this order and will, maybe, purchase the larger Torch, BUT it's still a pain in the neck to have to go Find Butane Cylinders on my own -- the product should be Ready To Use!
June 9, 2014
I know Creme Brulee
Anyone that says these dishes are too small doesn't know creme brulee. The dishes are supposed to be small! Creme brulee is a very decadent dessert; small is okay. For the price, you cannot complain. If you want a better torch, buy the big one sold separately and by itself from BB&B. NOTE: TORCHES ARE NOT SOLD WITH BUTANE. It says this on the box, but you can get butane at almost any grocery store, gas station, or convenience store. Do NOT make creme brulee in a broiler. This makes the creme brulee rubbery. This little torch is quite perfect for making just 4-6 desserts. If you're planning to make more or often, I would suggest buying the bigger torch and ramekins separately (again, buy the small shallow ramekins). Enjoy!
December 22, 2013
More than a little disappointed
I should have read other reviews before I wasted the money. The ramekins are very small and the torch is no better than using a lighter. It does NOT come with butane, so another trip to the store was necessary :( Like others said, I think they should put somewhere on the box that additional supplies are required. It would be very embarrassing to try to serve dessert with this. Glad I tried it with the kids before I used it for company.
April 4, 2013
Google saved the day, not this!
I like how the online description of this says that the fuel is not included. Perhaps that is because if you buy this item in the store like I did, there is no mention of this anywhere on the box or even in the product insert and they received a lot of complaints? I bought this set thinking I was ready to make a special dessert on Christmas day and found out when it was too late that the fuel is not included. I googled what to do and learned that you can put the cups into the broiler and get the same result. Thanks Google! :) The dishes are also super small with this set. No part of this purchase was a good idea.
December 25, 2012
Very happy!
I too bought the set for the torch. The ramekins are a bonus (a small sized bonus but still a bonus!). The torch works great! Customer service was also very helpful when I bought the set as they asked me upfront if I wanted to also purchase a butane container which I did. Refilling the torch is easy and I have no complaints!
September 18, 2012
Really Good!
I bought this torch for various kitchen things like creme brulee, and marshmellows, and i have to say, im VERY pleased with my torch. To comment on some of the other rating, they are right, the ramekins do only hold three tablespoons, but that wasnt why i bought this set, it was for the torch itself so it was like a bonus getting the dished, even if they are small. And yes, it doesnt come with the butane, but it DOES say that it isnt included on the side where it talks about how to refill it. If you go to the store to buy this, you dont need to leave to find the butane. They sell a somewhat large container for $8 at the customer service area. I love this item and its so much fun!!
June 4, 2012
Torch and butane
The butane cartridge can be purchased at any grocery store. I have several protable one burner stoves I use as a caterer which I use to operate them. I purchased both at a local grocery store.
March 15, 2012
Related Searches:
Similar Products: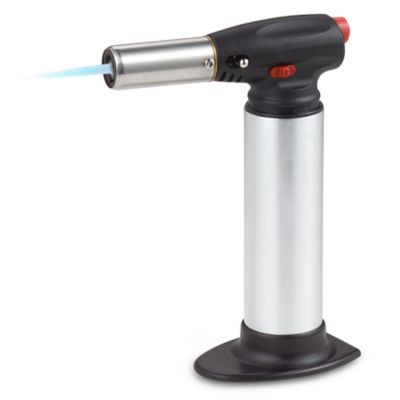 BonJour® Professional Creme Brulee Torch
Price:
$29.99
Brand:
Bonjour
Categories:
Kitchen > Bakeware & Baking Tools > Baking & Decorating Tools
Create mouth-watering desserts with this creme brulee torch. It features a large capacity for long burning times and has a powerful flame for larger jobs.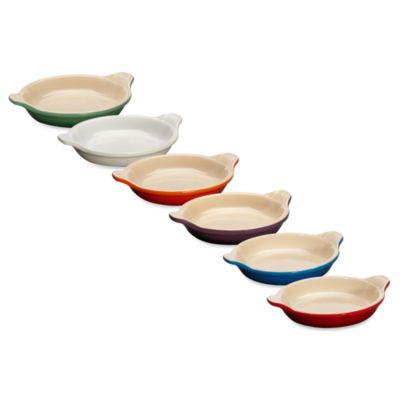 Le Creuset® Heritage Creme Brulee Dishes
Price:
$12.99
Brand:
Le Creuset
Colors:
cassis, cherry, flame, marseilles, soleil, white
Categories:
Kitchen > Bakeware & Baking Tools > Baking Dishes
Wide and shallow design is ideal for making traditional creme brulee and custards. Slightly larger top surface is ideal for torching and caramelizing sugar.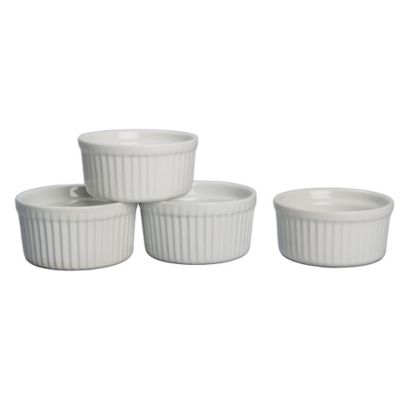 Porcelain Ramekin Bowls (Set of 4)
Featuring a classic design perfect for any setting, these 8 oz. ramekin bowls are so versatile They're great for creme brulee, individual apple crisps, side dishes, dips, and more.
Also check out:
$19.99

Exclusively Ours

(2 Reviews)
16 Piece Set $19.99
(11 Reviews)
$89.99 - $119.99
(36 Reviews)