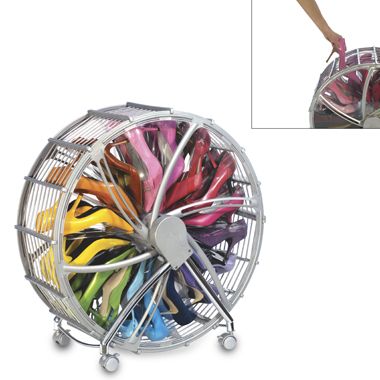 Shoe Wheel
Too many shoes are not a problem when you have the Shoe Wheel
The wheel's 20 expandable pockets allow you to store an average of up to 30 pairs of shoes (depending on the type)
The clips of the adjustable pockets slide back and forth over elastic cords
Simply place your shoes in the pockets and the cords will keep them in place
The rotating, ferris-wheel design allows you to spin the storage unit to easily see your shoes
You can even adjust the rotational speed of the wheel
The Shoe Wheel can be easily tucked away into a closet as it rolls out easily, or thanks to its stylish design can be kept out in the open
Some assembly required with a Philips head screwdriver and the included wrench
One-year warranty
Measures approximately 29" in diameter and 12 3/4" deep
SKU # 14555250
fair
The product was returned. The overall quality was cheap and not made to last.
May 5, 2014
Recommended, with just one caveat
I've had my shoe wheel for almost six years, in four different homes, and it has been wonderful. A little bulky (it has been part of the bedroom decor, because it doesn't fit into a closet the way I'd want it to), and it took me some practice to learn to slide the compartments around efficiently, but I have gotten very good at it and the shoe wheel and I have enjoyed a happy arrangement—even on two different kinds of carpet, where I never had a problem with it hitting the floor or not spinning, as another reviewer did. I find it sturdy and easy to use, as a size 8–8.5 woman. The only shoes I don't store in it are my boots. This year, we've had a humidity issue in our house, and I've discovered that many of my less-often-used shoes in the wheel had mildewed. This is NOT the wheel's fault, but if you have a crazy humidity level in your home (I mean really crazy—one day I noticed the bedroom mirrors were sweating) then it's better to have everything out in the open, and not safely enclosed in plastic. I love my wheel too much to give it up, though, so I plan to disassemble it and store it until we get this problem figured out.
July 20, 2013
Unimpressed
I thought the concept was excellent, but the execution and quality wasn't so great. First, it's not the easiest thing to put together. It requires a good deal of upper body strength to stretch the elastic separators out to the perimeter of the wheel. Getting the dividers equally separated at a decent width to allow shoes to fit in was near impossible. Once it's assembled it looks kind of cheap as well. Not what I expected for $70. Second, it claims to hold up to 30 pairs of shoes depending on the type. From what I could tell, to have enough space to actually fit 30 pairs of shoes you'd have to be putting baby shoes in there. It's supposed to accommodate men's shoes up to size 10.5, which is what I wear, but half my shoes wouldn't even fit in the compartments because of the depth and I was only trying to put things like Puma sneakers and small-profile shoes...not big clunky dress shoes. I ended up having several sections of empty dividers stacked together to make the sections I was actually using big enough to accommodate the modest height of the sneakers. I can't for the life of me figure out how the high-heels in the picture actually fit in there. Third, the overall size. It claims that it can be "easily tucked away into a closet." This may be true fi you have enough room to put it in your closet sideways, but it's too deep to be put into a standard depth closet facing out so that you can just leave it in there and spin and pull the shoes you want from the front of the closet. Fourth, if you have carpet in your bedroom/closet, beware. The weight of the (way less than 30 pairs of) shoes will push the wheels down into the carpet making it both difficult to wheel and completely inhibiting the ability to spin the shoe wheel because it's hitting the carpet. And the carpet is far from plush; it's pretty standard for most bedrooms. And, yes, I'm positive that I put it together correctly. I double-checked the instructions when I first noticed that it was hitting the carpet. It may work well for some people, but not most people I know.
July 11, 2013
Related Searches:
Similar Products: