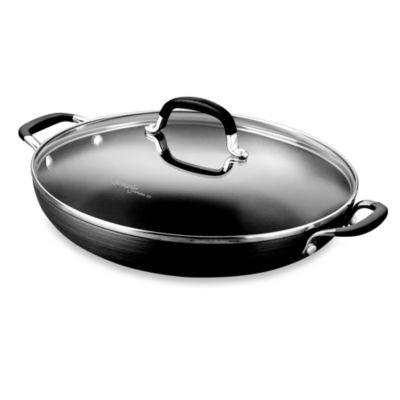 Simply Calphalon® Nonstick 12-Inch Everyday Pan with Cover
Nonstick cooking surface ensures effortless food release and easy cleanup.
Contoured silicone and brushed stainless steel handles.
Included cover features tempered glass construction.
Oven safe up to 400° F.
Hand wash.
Imported.
Ten-year warranty.
SKU # 41051412
Simply Calphalon® Nonstick 12-Inch Everyday Pan with Cover
79
80
Everything I hoped it would be!
I wanted a large pan that had an excellent non-stick finish. I got that and more! This pan can be used on top of the stove AND in the oven with no handle to get in the way. It is so easy to clean. I love it!
December 26, 2013
Fantastic versatile pan for a variety of uses
The Everyday pan may be used as a wok, is large enough to cook a whole chicken, wide enough for pancakes and truly may be used as an everyday pan. Love it!
November 27, 2013
great pan
I have been looking for a 12" everyday pan because I did not want the long handle for storage reasons. Cooks great & cleans up easily.
September 16, 2013
just what I was looking for
I have been looking for a 12 inch pan without the long handle because of storing issues. This is exactly what I wanted. I have used it several times and the non stick is great. Very easy to clean pan.
August 21, 2013
Disappointment
I have had a Calphalon 10-in Everyday Pan (w/Stainless Steel lid) for ages. Love it. But after much use, the interior is starting to show signs of wear. I also wanted a 12-in pan. Picked up this Everyday Pan from the Simply Calphalon line. Right out of the box I see that this pan is nowhere near as massive as the old one. Difference between 'heavy gauge aluminum" and just "anodized aluminum"? Admittedly, my 12-in Calphalon saute pan is frightfully heavy so one might consider the light weight an advantage, but I fear that it will affect the heating properties of the pan. I'm sure there is no reason to believe that it won't perform the necessary functions, and if we treat it carefully, it will probably last. I just like a pan that FEELS like it is made of good solid metal.
April 18, 2014
Love It!!!
My Mother gave me this pan for christmas. I was looking at princess house pans this last fall and what I liked was the non-stick coating. Then My mother found this pan with the same coating and better price. I now use this pan all the time it sits on my stove top just waiting to be used. I cooking over easy eggs in this pan they come out perfect. Love it, Love it, love it LLLOOOVVEE IT!!!
February 9, 2014
Great pan
I purchased this pan as a gift for my mother. She simply loves this pan for her skillet potatos. They cook evenly.
October 2, 2013
Great universal pan
I have had my pan for quite some time. It is my most used in my cupboard. This works great on the stove or in the oven. I love, love, love this pan.
October 2, 2013
Related Searches:
Similar Products: