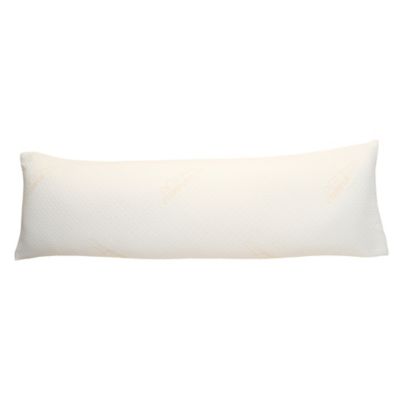 The BodyPillow by Tempur-Pedic®
The BodyPillow by Tempur-Pedic® was developed to provide the pressure-relieving comfort of TEMPUR® material in a traditional body pillow shape
The patented design features individually shaped TEMPUR® micro-cushions filling an inner sleeve also made of TEMPUR® material and can be shaped or fluffed to fit your needs
The generously filled 48" long design provides extra stability and support for your entire body, making it ideal for side-sleepers and expectant mothers
Features a removable silk and bamboo blend cover that is machine washable, allergen and mite resistant
Measures 48" L x 14" W
TEMPUR® material is spot clean
Three-year limited warranty
SKU # 16549355
The BodyPillow by Tempur-Pedic®
20
20
Great gift
I didn't get my 20% off and it wassn't gift wrapped. I asked for both so when it came I was disappointed. The 20% off would have been very important. However my cousin loves the pillow.
October 29, 2014
Comfortable but heavy
This body pillow is very comfortable but heavy. I turn from side to side throughout the night, and I have to use some strength to move the pillow with me. Other than that, I love it. Weird smell goes away after a couple of days,
September 13, 2014
Save your money!
This is very hard, and doesn't return to shape like the mattress does. Mine looks like it was run over by a rank in the middle. About to return it!
January 29, 2014
Super High Quality Material & Construction
Pros: super high quality material and construction; heavy; length is good for tall people Cons: heavy; almost too thick and I have wide hips & a serious Q-angle; it's like sleeping with another adult, so if you're in a twin bed this could be uncomfortable; does not come with a pillowcase
October 25, 2014
Awesome Pillow!!
I bought the tempur-Pedic body pillow to help with my sleeping pattern. What a pillow!! It is so comfortable and soft! It has helped me sleep much better! Thank you Tempur-Pedic!
September 1, 2014
Terrible body pillow. Does nothing.
I'd think this is a good pillow of you are a five foot tall woman who weighs 100 pounds but if you are anything over this will do nothing for you. I have and love the rhapsody pillow but this is nothing compared to it. This squishes into nothing and is so disappointing for it's price.
June 7, 2014
The Best Body Pillow
I know of no other body pillow that is as consistently supportive and comfortable than this one. I am 6'4" with a lower-back problem, and I've used this pillow every night for almost a year. I wouldn't trade it for anything. I hope Tempur-Pedic makes a longer body pillow one day. I'll be among the first to buy it if they do.
May 10, 2014
Love/hate
I bought this body pillow to replace a goose down pillow that had flattened over the years.  I liked it this summer, but now that it's winter I've changed my mind.  I keep my house cool in the winter and  the cool temp turns this pillow into a rock.  It is very uncomfortable until my body heat warms it up.  I'm going to have to replace  it.  
February 2, 2014
Related Searches:
Similar Products: