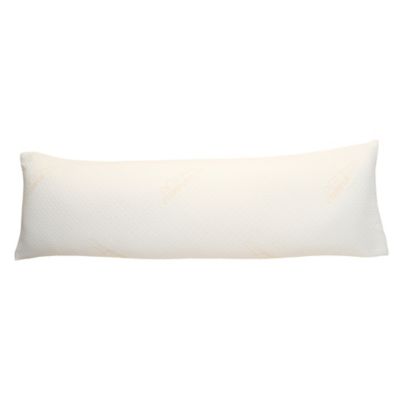 The BodyPillow by Tempur-Pedic®
The BodyPillow by Tempur-Pedic® was developed to provide the pressure-relieving comfort of TEMPUR® material in a traditional body pillow shape
The patented design features individually shaped TEMPUR® micro-cushions filling an inner sleeve also made of TEMPUR® material and can be shaped or fluffed to fit your needs
The generously filled 48" long design provides extra stability and support for your entire body, making it ideal for side-sleepers and expectant mothers
Features a removable silk and bamboo blend cover that is machine washable, allergen and mite resistant
Measures 48" L x 14" W
TEMPUR® material is spot clean
Three-year limited warranty
SKU # 16549355
The BodyPillow by Tempur-Pedic®
3
3
Save your money!
This is very hard, and doesn't return to shape like the mattress does. Mine looks like it was run over by a rank in the middle. About to return it!
January 29, 2014
The Best Body Pillow
I know of no other body pillow that is as consistently supportive and comfortable than this one. I am 6'4" with a lower-back problem, and I've used this pillow every night for almost a year. I wouldn't trade it for anything. I hope Tempur-Pedic makes a longer body pillow one day. I'll be among the first to buy it if they do.
May 10, 2014
I am a registered nurse and recently sufferred from a back injury. This pillow was my best friend, it is perfect for anyone with back problems, or needs support.
December 6, 2011
Related Searches:
Similar Products: