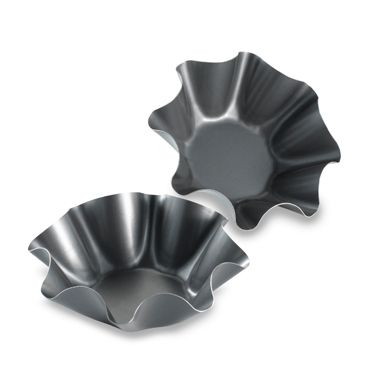 Chicago Metallic™ Large Tortilla and Taco Shell Pan Set
Unique, patented design bakes shells in 8 - 10 minutes
Set includes 2 nestable pans
Recipes included
Dishwasher safe
Model 26993
25-year manufacturer's warranty
SKU # 11058906
Chicago Metallic™ Large Tortilla and Taco Shell Pan Set
4
5
Perfect pan to make tortilla 'bowls'
These pans are perfect for making 'bowls' with tortillas. After browning in the oven, the 'bowl' slips right out of these pans and they are plenty large. After adding your ingredients & top with grated cheddar & sour cream they look almost too pretty to eat!!! I got rave reviews when I served them and you will too. I would recommend them to anyone!
November 6, 2013
tortilla shell pan
I love this I tem I got the smaller ones 6 of them I use them all the time easy to make and can be used with beans salsa eggs and cheese etc. for (juevos rancheros)
July 6, 2011
perfect pans!
These are great for making a taco salads, the tortillas always come out crispy and delicious.
June 1, 2011
Best Ever
I love these pans! I have 6 of them. So simple to use. Just buy a packet of tortilla or burrito wraps, place inside pan, make a few holes with a fork (or it will puff up). Bake on 350 degrees for 10 minutes and Voila! Now you have golden taco shells that you can fill with refried beans, rice, salad, chicken strips, salsa & sour cream...and you have just created a Mexican Chicken Salad shell that you would probably pay $10 or more at restaurants. Fill it with any of your favorite toppings. Impress your family & friends with your creativity! My kids love this dish whenever I make it.
September 24, 2010
Related Searches:
Similar Products: