Zuo Big Wave Folding Round Table in Lime
Measures 29.9" L x 29.9" W x 29.5" H.
One-year manufacturer's warrant.
Imported.
SKU # 41313701
Zuo Big Wave Folding Round Table
1
1
Horrible assembly directions
After paying $237 plus shipping for a METAL table, I don't want to then feel the need to have to PAY someone else to assemble the thing for me. It should be pretty easy. So I tried to follow the 'directions' which consisted of 'pictograms' only...and with some parts of the pictures being fuzzy and hard to see what it was trying to direct me to do...and...even with basic common sense on how things are put together, I was unable to get the table to work. So I called BB and got the runaround....'oh, you should try to call a local store and see if they can help you.' Seriously? Have you ever tried to get help at a BBB in NYC? The staff know nothing. Plus most NYC stores don't have 'furniture' in stock, that they would even be familiar with this particular item. So then I had to search for the maker of this table #Zuo# and try calling them. Had to leave a message. And so it goes.... I am still trying to resolve this issue. What a PITA. I will either have to PAY someone to assemble this....or actually RETURN it...and I will not want to pay return shipping for something that had rotten directions.
August 8, 2014
Related Searches:
Similar Products: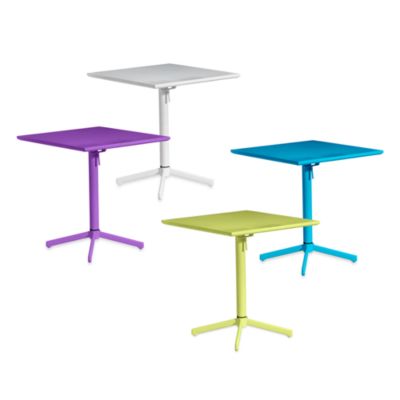 Zuo Big Wave Folding Square Table in Lime
Price:
$257.99
Brand:
Zuo
Colors:
aqua, lime, purple, white
This convenient Big Wave folding table will add bright color to any outdoor space. Made from 100% epoxy coated steel that is durable for any climate. Folds up for ease of storage when not in use.