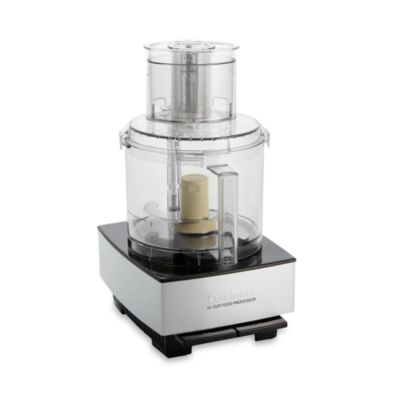 Cuisinart® Custom 14-Cup Food Processor
Unit with an attractive brushed stainless steel base is powerful enough to knead bread dough
Includes a medium slicing disc, shredding disc, chopping blade and dough blade, spatula and how-to video
Measures 7.5"L x 9.75"W x 15.75"H
Three-year limited warranty
UL listed
Model #DFP-14BC
SKU # 12360010
Cuisinart® Custom 14-Cup Food Processor
14
16
Great Machine
We purchased this to replace our 15 year old food processor. The safety features are a bit much but the machine is awesome! My only problem is where to store the blades. Our last processor came with a box to safely store them in the cupboard.
July 19, 2014
So far, so good.
I ordered this product just recently to help with my adventures in cooking. It came well packed with everything as promised. I immediately used it to make Pasta Primavera. It made chopping all those veggies a snap. The bowl is huge (14 cups) and controls are simple yet efficient. The two different sized hoppers are also a nice touch. I think the price was great, but I only gave it a good rating because I haven't used it for anything else yet (bread and biscuits are pending). Check back in a few months for an update.
July 8, 2014
Easy Breezy vegetable prep
When we were downsizing, I got rid of my older model cuisanart, thinking it wouldn't fit in my small condo kitchen. What I didn't know was that I'd become part o the social committee and love to prepare foods and delicacies for our many get togethers. This new 14 cup food processor is a dream. Easy to use, it easily and neatly cuts vegetables for fresh dipping, more finely for spring roll insides, fine slicing for soups. We haven't used it all that long, but so far the advantages are ease of use, ease of cleanup, dishwasher safe, controlled chopping and slicing, powerful motor. What more can I saw?
February 12, 2014
defective
This item has a chip in the feed tube/workbowl cover. It is about half the size of a dime. Alerted the company, they shrugged. Took it back to BB&B, and every box we checked had the same defect. What kind of company allows their product to leave the factory like that? Research on the internet taught me that Waring owns Cuisinart and if you want to buy a food processor with the quality of the ones of yore, you have to buy the more expensive ones that are made under the Waring name. You can't get those at BB&B, you have to go to a restaurant supply house. The units marketed under the Cuisinart name are tinny. This is what I call "hidden inflation." The folks at BB&B were very helpful; the folks at Cuisinart were indifferent. A formerly great brand ruined.
February 1, 2014
Exceptional processor
I needed to replace my old cuisinart food processor - it was over 15 years old and while it still works great I needed a larger capacity work bowl. I tossed and turned over to get another cuisinart or a more expensive brand processor bc I have other appliances from that other brand and they work great - in the end I went with the cuisinart 14 cup processor and it is really awesome - it is a solid machine that delivers every time - I am so happy with the processor that it got me thinking about the other one I was debating on getting which is literally hundreds of dollars more - I have no idea how it could outshine the cuisinart besides it doesn't matter this processor is in my view hands down the best - you'll be very happy with this choice - trust me P.s my old processor is now at our summer home and I used it the other day - still exceptional even after all the years and wear and tear
January 20, 2014
just like the pros!
I ordered this as a Christmas present to myself. Got it in time to use for holiday cooking and baking. It is awesome. I have used all the attachments and they all work well.. I especially like the dough attachment, I used it to make pizza dough and bread dough. It was easier to use than my stand mixer with dough hook attachment - the dough came together after just a few pulses. My only complaint is when you use the slicing attachment, some big pieces can slip through. I used it to slice cabbage for slaw and there were a few big pieces that went into the container. Overall a great machine! It is also really quiet which is nice when I'm cooking while my kids are napping. I know this sounds silly, but I feel like I'm a chef on the Food Network when I use this. haha!
December 18, 2013
Everything I Wanted
The Cuisinart Custom 14-cup Food Processor is everything I wanted it to be: quiet, efficient, solid, dependable, powerful, sturdy. I home-cook for my dogs and use this food processor every day. It works like a charm. Of course, I also use it when preparing my own food. Each attachment is fabulous at what it does. This is the first food processor I've ever owned, and not only am I sold on having one, I'm sold on THIS one.
November 6, 2013
THE BEST
I bought a similar cusinart processor 20 years ago, it finally wore out. I replaced it with this model. I love this processor, it is simple to use, works great, no complaints and I highly recommend it. It is a good price too, worth every penny. You can use It for so many different things, its amazing, I keep it on the counter so its ready to go, and its very easy to clean up, either by hand or the dishwasher. Love, love , love it !!
September 16, 2013
(
9

Questions
 : 
11

Answers
)
Ask your questions. Get answers from the community.
Ask your questions. Share your answers.
Related Searches:
Similar Products: